You might have noticed the red British Heart Foundation banks dotted around campus and in town… hopefully you've even used them to donate your unwanted stuff.
But what happens after you leave your items in one of these banks?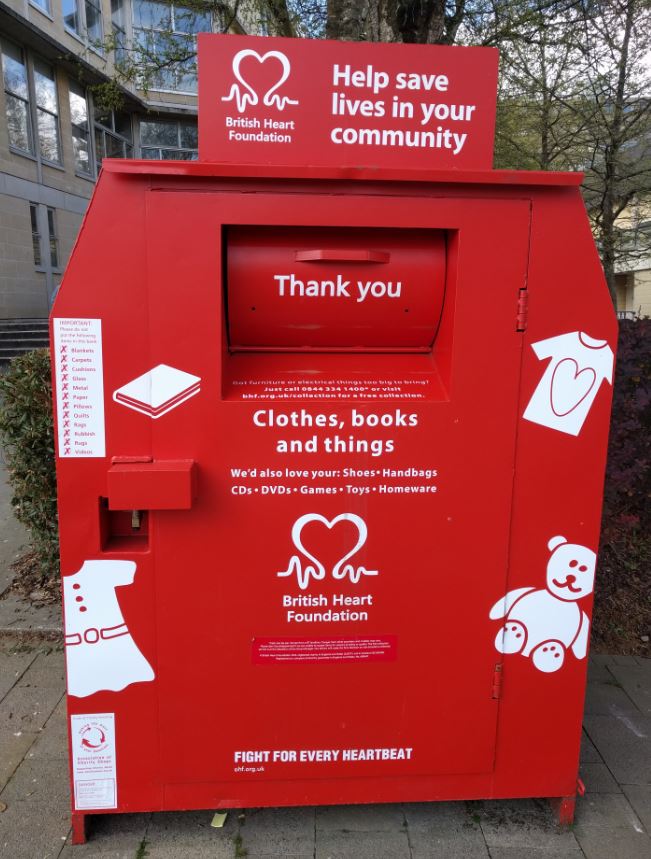 The British Heart Foundation then empties the banks and takes the contents to local charity shops to be sold.
The charity estimates that the value of each bag of donated items is £14.
At the end of the last academic year, University of Bath students donated 3,733 bags, which equates to a huge £52,262.
To give you an idea how this directly helps, the total would pay for one of the following:
9 months of funding for a scientist to help find a cure
373 days' pay for a heart nurse
Support for 149 young people suffering with heart disease
Last year 2,517 bags were donated, so it's great to see an almost 50% increase.
The money raised went towards helping the local area by funding:
387 defibrillators
CPR training for 87 establishments
3 research grants
1 Heartstart CPR training group
17 British Heart Foundation charity shops
124,332 heart health resources, such as leaflets and online advice for patients, families and carers
We look forward to hearing the impact that this year's donations makes on our local area.