Recently, the Centre for Sustainable Chemical Technologies (CSCT) purchased a Microsoft Surface Hub. We asked Rubina Kalra, CSCT's Digital Communications Coordinator, about the benefits of the Surface Hub.
It's a digital whiteboard
How many times have you been in meetings to discuss a complex idea on a whiteboard and had to frantically write down the ideas in your own notebook? Do you remember the day when you had to find a substance from the lab that would remove the everlasting stains of marker pens?
Microsoft Surface Hub allows you to scribble on their expandable canvas. As soon as you grab a Surface Hub pen (stored on the sides of the display), the screen launches the whiteboard app. Two people can simultaneously write with different colours, since each pen has its own ID. The Hub's screen can read up to three pen inputs and up to 100 finger inputs at once.
You no longer need to frantically take notes in your own diaries. Once done, a person can simply email the canvas to anyone. This way, when you leave the room, you take the ideas with you.
Attendees can join remotely
Ever wished your project partner in Brazil could join you in the whiteboard discussion or your group presentations? Using Skype on the Surface Hub, you can hold engaging and productive video conferences. You can share what's on your screen and invite their input in it.
It's intuitive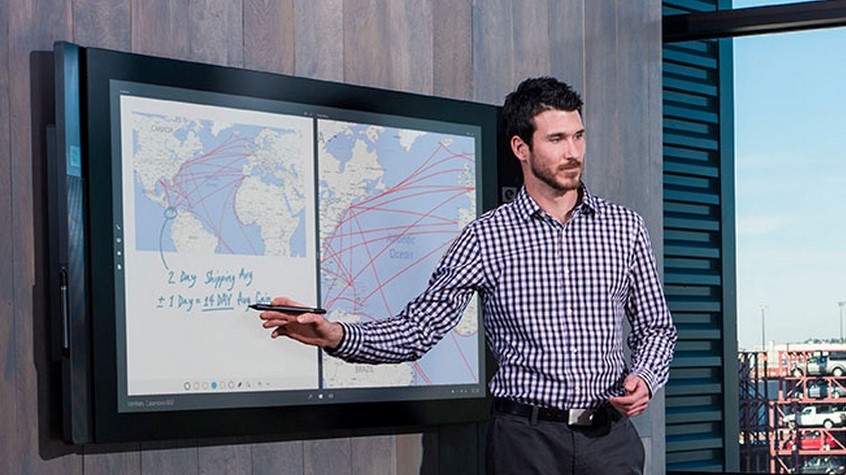 If you're familiar with using a smartphone, you will be just fine using the Hub. For example, you can open up a blank canvas and add screenshots of other images on the screen, zoom in and out using your fingers and scribble your notes on it.  If you would rather project your own personal device on the screen, the Hub offers various ways of doing so.
The 55" Hub is easily portable on a rolling stand so you can take the meetings wherever you like.
You can get in touch with Computing Services if you want to try using the Surface Hub in a team meeting.