With the release of Windows 10, Microsoft have moved to a semi-annual upgrade basis, instead of releasing  a new version. It's now time for us to roll out the first of these across the University PCs. This is different to the normal monthly security updates and so we are giving you a much longer period in which to carry out the installation. For this upgrade, we ask that you complete the installation at a time convenient to you, until the 5 September, after which the update will happen automatically.
What this means for you:
This update will take about two hours to install and so we recommend that you set the update to begin at the end of your working day. You can lock your computer, leave for the evening and the update will go ahead. You will be prompted to install the update via a pop up box on your screen, or you can find it yourself at a convenient time through the Windows Software Center. You can view the example pop ups below. We really value your feedback and so if you would like to complete our short survey after you have installed the update, we welcome your views. 
If you have any issues installing this update, you can raise an IT help ticket and the team will advise.
Important
If you choose to have your PC install its updates out of hours, please close and save any important documents and apps before you go home, but leave your PC on so it can perform the update. Unfortunately if the PC is turned off it won't be able to do the update for you outside of business hours.
The pop-up you will see to prompt you to install the updates: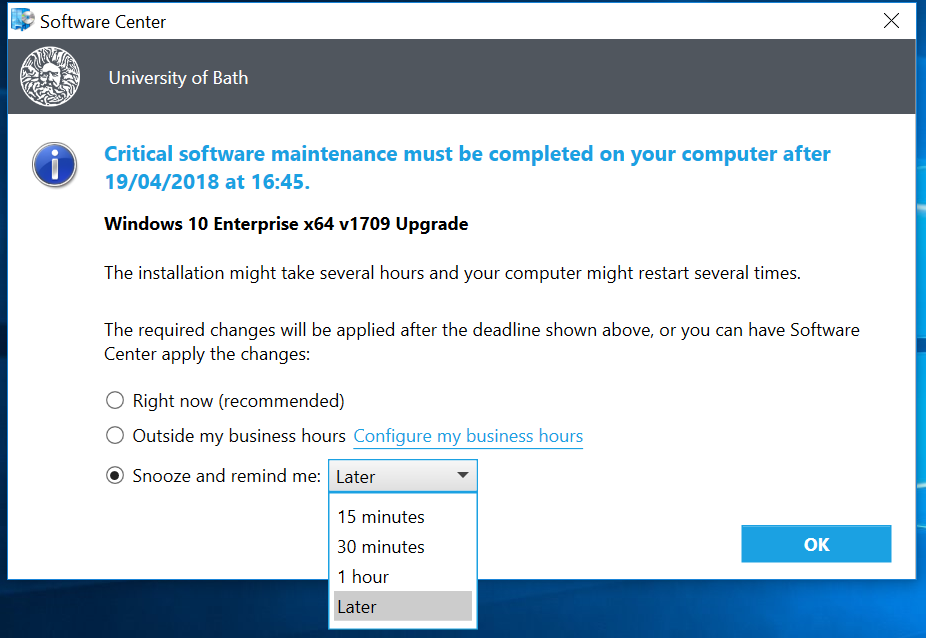 Pop-up to confirm you want to go ahead with the update