Dear Colleagues,
Thank you for your continuing efforts to ensure students arrive successfully onto the Bath campus to start their new programmes for September 2015. We are delighted to have already welcomed many students onto our pre-sessional English programmes this summer in preparation for their studies with us. We also appreciate many of you are already working hard on future students for 2016 onwards. Here are some highlights for July from an Internationalisation Award for our Student's Union, exciting new videos and blogs promoting opportunities at Bath, and a showcase of your MSc ITM, to changes to visa regulations for international students and the temporary closure of the agent portal. Please note in particular the news of the imminent closure of the agent portal on Wednesday 5 August for one week.
With Very Best Wishes,
Andy, Brian, Fay, Jo, Virginia and Zoe
International Relations Recruitment Team
IMPORTANT NOTICE :  *Agent portal unavailable from Wednesday 5 August PM to Thursday 13 August AM*
As part of this year's Confirmation and Clearing process, the Agent Portal will be unavailable for both PG and UG applicant records for the period Wednesday pm 5th August to Thursday am 13th August.
There will be a note on the Agent Portal to say how long the service is unavailable for.
PG Applicants will still be able to access their application information directly via Application Tracker.
University of Bath Student Union awarded 'Internationalised Students' Union of the Year'
Congratulations to our Student Union who picked up the Internationalised Students' Union of the Year accolade at the NUS (National Union of Students)/UKCISA Internationalisation Awards.
This reward marks best practice within universities and SUs, and pays tribute to the hard work that unions and officers put into supporting international students.
SU International Students Coordinator Eva Donoghue said: "This award recognises all the hard work the SU puts into supporting and welcoming students from all over the world. With 30% of the student population being international it's so important to make them feel a part of the community."
The University of Bath SU is one of only four nationally to have achieved a Gold Students' Union Evaluation Initiative Award for being one of the best developed and well managed SUs in the UK. We are extremely proud to have one of the best students' unions in the country. The support and opportunities they provide our students plays a vital role in the success of the University.
Changes to visa requirements for international students
Published on the University of Bath website 24 July 2015
Work rights
UK Visas and Immigration (UKVI) have recently announced changes to work rights for Further Education students only. Rights to Work have NOT changed for students in Higher Education.
However, there have been changes to work rights for dependants of Tier 4 Higher Education students.   From the autumn, and when a new visa application is made and granted, Tier 4 dependents will be restricted to taking part-time or full-time "skilled" work and not a low or unskilled job.
Funds required when students extend their visas
Currently, students who have been studying in the UK for six months or more have been able to show just two months of living expenses as financial evidence to extend a Tier 4 visa.  From 12 November, a student making an application to extend a Tier 4 visa will no longer benefit from this 'established presence'.
Students will now be required to show living expenses for each month that they extend, up to nine months. Therefore a student applying to extend for one year will need to show sufficient funds to cover nine months of living expenses.  This may mean that students will need to show that they have significantly more money in their bank account, particularly if they have dependents.
The changes to established presence do NOT apply to students applying for the Doctorate Extension Scheme.
Changes to time limits
There have also been some changes to the length of time students can study in the UK and we are currently establishing the detail of this with UKVI and will then be in touch with those potentially affected and with their departments.
For details of these changes, please see: https://www.gov.uk/government/news/tier-4-visas-immigration-rules-changes
Opportunity to promote our MSc ITM
MSc in Innovation & Technology Management - combining Engineering & Management
Do you have students with an interest in technology and engineering coupled with an ambition to become a leader in today's complex business world?  Studying the Bath MSc in Innovation and Technology Management could be their answer.
Whilst other programmes explore the management of technology from either a technical or management perspective, our MSc is unique through its combination of management and engineering, integrating the two disciplines to ensure they have the necessary skills to manage across boundaries.
A full-time, 12-month intensive Master's programme, the MSc in Innovation and Technology Management is a joint degree run by two of the University of Bath's top ranked departments - the School of Management and the Department of Mechanical Engineering.
Find out more and share this information with your students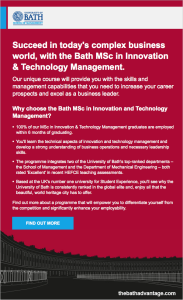 Our placement students have been blogging
Third year students in the Faculty of Humanities & Social Sciences are coming to the end of their placements so it's worth catching up on their last posts on the Placements blog . From Chilean (and Spanish) political unrest, to sushi eating, talent spotting, reggae dancing and missing fish 'n chips and the NHS – they've experienced plenty during their placement year! Take a look. It's a great way to share a taster of what its like to be on a placement.
New ways to promote the Faculty of Engineering at Bath
We are delighted to be able to offer a new range of Engineering videos for you to share for promotional purposes.
The first, just a couple of minutes long, is entitled 'What is Engineering?' and  can be viewed on the Faculty homepage:
http://www.bath.ac.uk/engineering/
The second is just over four minutes long and aims specifically to promote engineering to schoolgirls. It can be found on the Faculty Women in Engineering page:
http://www.bath.ac.uk/engineering/women/index.html
Both videos are both also available on Youtube: