This post is contributed by Emma Lampard.
---
In December I was lucky enough to travel to the Hawaiian island of O'ahu to present my work at Pacifichem 2015, a large international conference held in Honolulu every five years. Approximately 15,000 chemists attended the conference, including myself and fellow CSCT students Rob Chapman (read his blog), Bill Cunningham and Caroline Jones (read her blog). The technical program contained contributions from 71 countries, emphasizing the collaborative nature of chemistry as a multidisciplinary science. More than 17,000 papers were presented in either oral or poster formats, in 334 symposia focusing on 11 different topical areas of chemistry.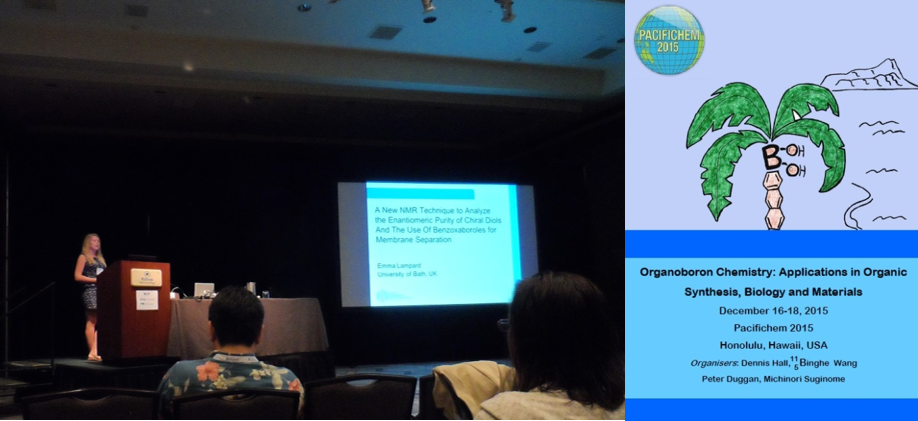 I presented my research in the Organoboron Chemistry: Applications in Organic Synthesis, Biology and Materials session. My research focuses on the synthesis and use of benzoxaboroles for membrane separation. Benzoxaboroles are compounds of increasing interest due to their diverse range of potential applications. My project focuses on the synthesis of benzoxaborole monomers, which can then be incorporated into polymer membrane systems. Benzoxaboroles have been shown to have high affinity for both diols and fluoride, so the polymers produced will be screened for their ability to selectively extract catechol natural products from aqueous extracts of waste grape biomass and also their ability to remove fluoride from water.
My project aims to alleviate the adverse environmental impact of the wine industry by providing new routes to convert the waste biomass into economically viable chemical product streams and provide a cheap and simple method for the detection and removal of fluoride from drinking water. It was a fantastic experience to give an oral presentation of my work in front of many world-class researchers working in the field of organoboron chemistry. Although I was one of only very few students to present as a part of this session, my talk was very well received. I gained a lot from the experience and will definitely feel a lot more confident delivering presentations in the future.
Other talks of interest in my session included a presentation by Dennis Hall on boronic acid catalysis for the direct activation of alcohols in Friedel-Crafts alkylations using a new ferrocenium boronic acid salt catalyst, yielding only water as a byproduct and avoiding the use of other activating groups, making the reactions much greener compared to traditional methods. Also of note was Michinori Suginome who spoke about masked boronyl groups as directing groups for transition metal-catalyzed C-H functionalization.
Whilst in Hawaii we managed to spend a few days exploring the island on either side of the conference. Highlights included a hike up the Diamond Head crater, a visit to Pearl Harbour and snorkelling with Hawaiian green sea turtles. I am very grateful to the conference organisers for accepting me to present my work and for the funding from the CSCT and the RSC Organic Division Travel Grant Scheme which allowed me to attend this conference.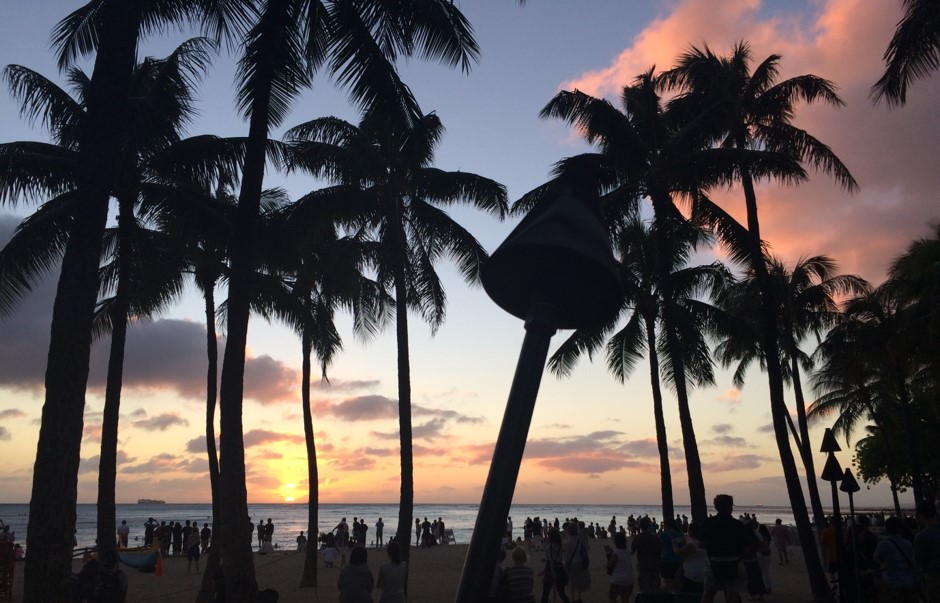 Emma is working towards her PhD on "Benzoxaboroles for Membrane Separation" with Professor Tony James, Dr Darrell Patterson and Dr Steven Bull.