Jessica Pinheiro de Lucena-Thomas is a second-year PhD student at the CSCT. Her PhD focuses on developing a bioreactor for large-scale expansion of organoids, specifically for drug testing in the pharmaceutical industry. However, for her internship she chose to spend some time away from the lab.
Jessica joined Utopia, an urban innovation group focused on emerging cities and their slums, in Rio de Janeiro, where she discovered a new side of the city that she calls home.
For my internship, I decided to face real-world sustainability issues in vulnerable areas of South America. I worked with Utopia's team for one month in Rio de Janeiro, the symbolic capital of slums - commonly called favelas - and where I was born. This was an incredible opportunity to develop new skills and to expand my horizons.
Despite improvements, favelas have a reputation for having bad infrastructure, poor sanitation (sewage often runs in open drains and can end up in the sea), overcrowded areas prone to landslides during the storm season (due to illegal makeshift housing), gangs (drug trafficking), and government neglect (some services such as public transport, sanitation or rubbish collection are not always guaranteed). Even with all these problems, favelas still manage to coexist within the city and grow over the years.
Utopia is the world's first urban design and innovation firm focused solely on slums, which will soon be home to a third of the global population. Utopia aims to convert slums into next-generation micro-cities, which are more liveable and a better place for everyone to thrive. They are working towards the next generation of urban start-ups and a network between them for emerging cities and their slums across Africa, Asia and Latin America. My motivation to work with Utopia in Brazil was to contribute with engineering and sustainability ideas in my home country, so I could play a part in finding solutions to tackle the global slum issue.
During my first week in Rio, I spent some time trying to understand Utopia's work and plans. I did some research about opportunities that might be available, and I travelled to Rocinha for the first time. Rocinha is the largest favela in Brazil and located at the hills of São Conrado, and my visits there were the greatest experience of the internship.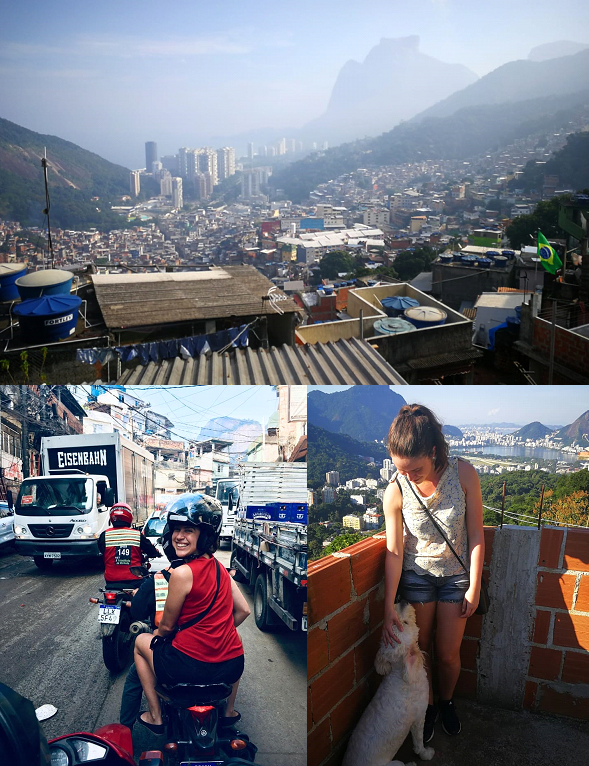 In Rocinha, I met and interacted with four groups:
The founders of the first three initiatives are residents of Rocinha. They kindly took me on a few tours up the narrow alleys of Rocinha safely and showed me around. Seeing how people in favelas make ends meet despite the everyday difficulties they face was a humbling experience!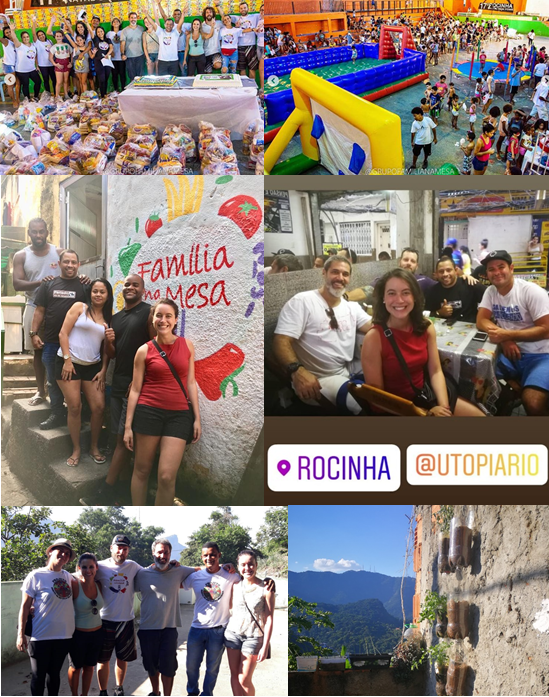 In Rio, Utopia is working to connect small sustainability initiatives, preferably led by favela residents, so they can be developed into more robust projects that are self-sustained, i.e. they generate benefits to the community and are not completely dependent on donations from the private and public sectors, since these are not always guaranteed. For example, a prototype project I was involved in was to improve a public school in Rocinha. The improvements were based on creating sustainability programs to teach the students how to grow their own food and discard their waste accordingly. When fully implemented, this project should generate wealth for the community (food, skills, income, jobs) as well as sustainable development awareness. By having this small working prototype, it should be easier to replicate this work at different levels in other places.
During the second half of my time in Rio, I met and engaged with the community to understand their needs and the ecosystem where the Utopia projects would need to survive. Accessing the communities in Brazilian slums is really difficult – usually only a few trusted people can do this, and gaining this trust is even harder.
Unfortunately, corruption and violence are the reality in the favelas. To be able to implement anything there, the projects need to be protected from these interferences – which can only happen if residents are leading the initiatives. This is why it was so important to meet the residents who are doing this and who know the reality of the community better than anyone.
What I experienced during my visit to the favela was a vibrant community with its own identity and a very strong culture. Rocinha is a relatively safe place with kind, open and friendly people. The concept of community is strong as the favelas were created by the residents, with little help from the government, in a complicated economic environment. As most of the houses are constructed on the hills, they have breath-taking views that make some rich people jealous!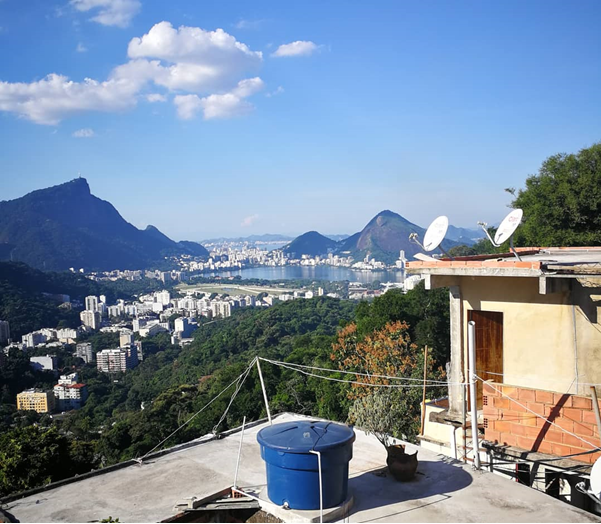 After my time in Rocinha, I helped structure Utopia's work itself at an organisational level. To begin new initiatives, it's always better having a structured programme. So together we wrote a document that included the mission, vision, values, summary of the work already done, risk analysis, and work strategies for the future. Hopefully, this document can help kick-starting other similar projects in Brazil. Being involved in such an early stage of the work was very fulfilling, and I hope to keep giving them insights from the UK if they need my input again!
I have to confess that I started this job not knowing exactly what I was supposed to do. All I knew was that I would be working with favelas in Rio, and helping people to get a better life there using sustainable development ideas. Of course, one month is not enough, but in the end, I learned much more than I was expecting.
The complexity of favelas is huge, and so is the contrast between them and the rest of the city. Being from Rio myself, I thought I had some knowledge about this, but it was definitely not enough. I know the world is unfair sometimes, and corruption and violence are everywhere. But once I was in the favelas, meeting fantastic people who do everything they can to help their community, I came away with hope. It was amazing to see how everyone knows everyone else there, and how they share what they have, even if it is not much.
This internship was a rewarding experience that helped me break some stereotypes and be more empathetic. Going forward, it will also help me think more about the social aspect of my work and the real benefits and consequences of my actions for a sustainable world.  In summary, it was an incredible experience for me and I am looking forward to sharing this with people!
This placement was funded by the Doctoral College Placements Support Fund.