Author: Antonio Pessanha -
---
Team Bath Racing Electric (TBRe) represents the University at the annual Formula Student Electric competition. We aim to become the top electric team in the UK in 2017 and to set the foundations for continued electric vehicle research and development at the University for many years to come. TBRe was founded approximately a year ago by a small group of final-year engineering students that believed in the importance of electric vehicle technology for the future of sustainable mobility. They were also crazy about racing.
From go-kart to Silverstone in 12 months
The project began with the development of an electric go-kart. Essentially, the aim was to replace the go-kart's original petrol engine with an electric motor. The success of this project provided a hands-on working knowledge of the electrical systems and proved the feasibility of the team's wider goal: to develop a fully electric race car in time for the 2016 Formula Student event at Silverstone.
The 12 months that followed were hectic. Time had to be split between setting up the team (i.e. recruitment, funding, sponsorships…) and the development of the car. Many sleepless nights later, the team was able to take TBRe16 to Silverstone in July. The valuable feedback obtained during the event from technical design judges will be incorporated into next year's car, marking the beginning of a cycle of knowledge transfer that will continue for many years to come! TBRe's successes in 2016 would not have been possible without the support given by the Faculty of Engineering & Design and Team Bath Racing (TBR) – thank you!
Watch Team Bath Racing Electric in action at Silverstone 2016
---
Launching our 2016/17 project
Our official 2016/17 launch on the 7th of October marked the beginning of a new era for TBRe. It was a pleasure to inaugurate our brand new build room and present our team, goals and long-term vision to over 70 enthusiastic engineering students that share our enthusiasm for racing and technology. The team has rapidly tripled in size to approximately 30 students from a range of year groups and disciplines, including a dedicated business team that will take care of finance/logistics/media and allow the technical team to focus exclusively on designing TBRe17!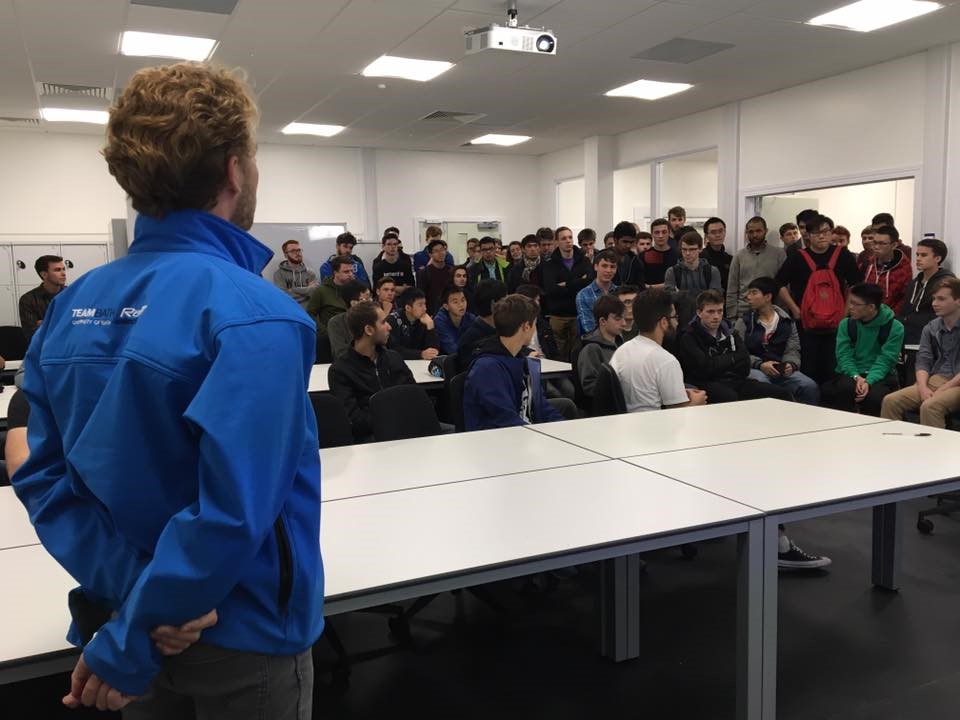 How to get involved
It is hard to explain how thrilled we are about TBRe's prospects for the future. With a team of highly motivated individuals and continued support from our academic and industrial partners, 2017 is set to be a game-changing year for the project. Follow our Facebook page and come visit us in 2E 1.10 (Department of Electronic & Engineering) if you want to get involved or simply learn more about the team, we look forward to meeting you!