Author: Nicola Morris -
---
When I first applied to study at Bath I knew I wanted to do my research project abroad, it's a rare opportunity for engineers that I knew I had to take! I originally wanted to go to Toulouse because the projects sounded perfect, but I also managed to secure a place at the University of Queensland, Australia. Anyway the Toulouse application fell through and all of a sudden I was booking a flight to Aussie land. Moving to the other side of the world sounded a little drastic, but here I am, and I'm so happy with my decision.
So in 2 days' time I'll have been here for 5 weeks! Time is going crazily fast and now I've found a weekly routine I feel completely settled in. The campus is beautiful, I've joined some societies and I'm happy with where I'm living! Before I moved here I contacted my Dad's relatives who live in Brisbane, just to say hi, it turned out him and his wife had a spare room and were more than happy for me to stay with them! I'm living quite far away from Uni which is the only snag, it takes me an hour to commute but it means I get to take the ferry every day! In Brisbane the CityCat ferry service is very popular and is a great way to get around. Personally the novelty of travelling to Uni by boat every day still hasn't worn off, I sit outside on the deck in the sun with the wind whipping through my hair smiling to myself, definitely beats First buses!
The project is pretty chilled as well, the days in the lab are long but we manage our own time and have a lot of independence. As 'occupational trainees' we are technically staff so we've even got our own office! I enjoy the fact the project feels more like a job than Uni, after 5pm I can switch off and go home without feeling any guilt! It's also great because the weekends are 100% our own, so we're taking trips to different places and just generally having a great time. 2 weeks ago we visited the Gold Coast, we took the train for an hour south and spent a night in a backpacker's hostel – which is an experience by the way if you haven't stayed in one before. We had an amazing beach day, then after a game of beer pong and rage cage (if you don't know what that is you're missing out) we headed out. The Gold Coast has good nightlife for the record. Last weekend we went to Byron bay, which was also an awesome place. It's a lot less commercial than the Gold Coast but the beach is just as good, it's a popular backpacker's destination and has quite an alternative vibe - very cool. The highlight was trekking up to the lighthouse on 3 hours sleep to watch the sunrise from the most easterly point of Australia. Definitely make the effort to do things like that! It was a surreal experience and I'll never forget it.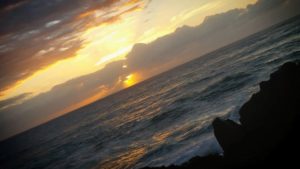 So the project continues, the work is interesting but days in the lab are tiring and take a lot of patience, but knowing that we've got beach plans for the weekend makes it very easy to tolerate! Last semester was very challenging and stressful, so I'm happy to say that I am having the time of my life right now, it's such a breath of fresh air.
Reader, if you are considering travelling or going on exchange but aren't sure, I'll relieve you from your reservations… go! Even if you're anxious, even if the first few weeks are tough, I assure you you'll have the time of your life.