Author: Fiona Gleed -
---
This weekend I went back to a project that I worked on, as a Graduate Structural Engineer, over 20 years ago. It is local and public so I've been to it and through it and talked about it a lot. But this time was different. I went back with my Father-in-Law and saw the building from a different perspective.
As we walked up to the door my youngest protested that he did not want to look at beds.
"Well you don't have to look at the beds, son! Look at my beautiful building, do you like the facade? What about the post-tensioned beams of the car-park? Look how we left room for the trees!"
"Oh" said my father-in-law "Did you have a hand in this?"
"Just a little! I worked on it for months in the office and then spent a whole year on site. Take that mat well. That caused us no end of trouble. We had to redesign the reinforcement so there was room to set it in. And the brick paviors on the ramps caused a few laughs. They were set on sand the first time and the rain washed it all out. They had to redo the whole lot with mortar."
We walked in to the building. Suddenly the revolving door, that had seemed so slow for all those years that I dashed through - with a push chair, rushing in for Scout Uniform, grabbing a last minute Christmas present- was perfect. The moving glass chamber was exactly matched to the pace of an elderly gentleman, leaning on his stick. The level floors had no hazards for feet no longer lifted high.
And that 8.4m floor grid provided not just a regular layout but sight lines so he could find what he needed. That grid was not achieved easily. It was guarded by the client's own design team against any relaxation for service voids, or foundation positions or stair wells. One of the other graduates took weeks optimising all the columns, minimising reinforcement requirements for the moments from the frame analysis. And then we discovered he had forgotten the cladding loads. Not trivial loads in a design that demanded massive, monolithic, cast-stone panels, hooked on to the slab adjacent to every perimeter column. On site, one of the columns was cast 10 mm out of position, out of tolerance. It takes a fair while to saw cut 10mm off the face of a column and render up 10mm on the other side! But there was no compromise. This building had to be right.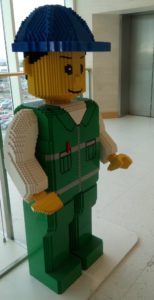 The lifts were well positioned, there in the lobby. Generous doors that were patient and held back. The smallest of accelerations as we descended.
I'll spare you the details of the bed selection – though the detail of design was evident there to: in the sizing, load distribution, environmentally responsible materials. And the sales staff really knew the details, the specifications, how the product needed selecting to suit the purchaser in height, weight and aesthetics.
With notes on specifications and prices we headed upstairs for a coffee. I was a bit anxious about the escalator but its extended transition curve and generous treads allowed him to step on and ride majestically up through the atrium, his grandson in front and son behind; up through an atrium designed for Christmas decorations, which sparkled with light.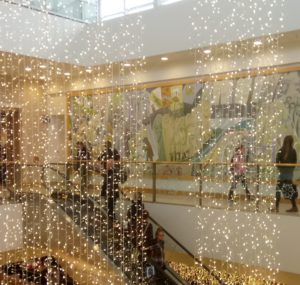 Meanwhile I raced up the stairs. Despite having used them regularly when I was working on site, I had forgotten them and only rediscovered them on one particularly busy day when a kind sales assistant pointed out a door that would let me dash down a floor rather than queue for the escalator.
I emerged in to the pop up. This was a galvanised steel framed structure, constructed on the tanked concrete roof. I've lost the sequence here – I can't remember how we achieved a steel to concrete connection on a roof with a continuous membrane. Not a design task for a graduate but I'll bet the Senior Structural Engineer remembers. He has never actually stopped working on the project as there are regular queries about retro-fits or remedial works required after 10, 20 years of use.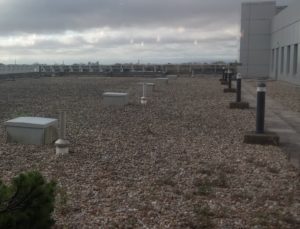 Anyway, the roof is an "Upside down roof". Over the membrane is a layer of insulation; expanded foam paviors, which turned in to surf boards on site when it rained, gliding across the roof under an unwary foot; we soon learnt to weigh them down. To keep the insulation in place in the long term design case, paving slabs and pebbles were used. Not just any pebbles. These pebbles had to be sized so that seagulls could not steal them and drop them from a height on to the glass roofs as they do in the wild and had done at Liverpool, a design precedent feeding through in to the details.
Emerging in to the front of house areas, the clerestory rose above me. This is one of the few places in the store where light is allowed to shine free. The client's exceptionally thought through design strategy extended to the philosophy of lighting. By creating a box with the most minimal of openings, and a regular column grid to a precision where mirrors could be mounted, undistorted, an artificial lighting regime could be developed to accentuate the products on display and gently guide the mood. But on the top floor the lighting is natural, a refreshing environment to sit and chat and make decisions.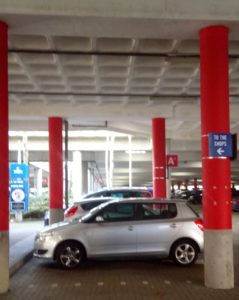 We travelled back down, chatting on the escalators to the same friendly sales assistant who had taken such care to understand her customer's needs. And we went and sorted out the purchase. Products marshalled on the system, scheduled for delivery on the afternoon of moving day. We left the store from the lower ground floor. Heading out via another set of perfect revolving doors to wait; the level surface kind to tired feet as my husband brought the car round to take his Dad home. The post-tensioned beams spanned above us, columns demarcating generous bays.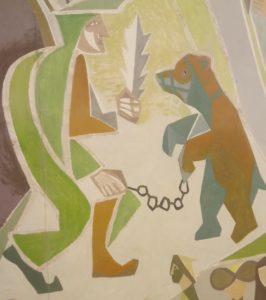 And as we drove away, I reflected. Design this good, a cathedral for retail, takes partnership. Not perfection – we all learnt a great deal from the details that didn't quite work at first – but partnership. Arup Partnership, Building Design Partnership, Hoare Lea Partnership,  John Lewis Partnership. All in partnership. Never knowingly underselling each other's roles - or design.