Ella Allison-Drake, Year 3 MEng Chemical Engineering
One of the things that drew me to Bath was the opportunity to study abroad for some of my degree. Unsurprisingly, I wasn't going to miss the chance to come to New Zealand to do my research project. On that topic, the University of Auckland is a great place to work; everyone is friendly and helpful, the research is interesting, and I had the opportunity to work with many different people in various departments. My project looked at alternative energy storage using phase change materials – not exactly a catchy title, but a very interesting, ever-developing field. Alongside standard chem eng work, I also got to work in Chemistry on a complex synthesis process to create a polymer storage material.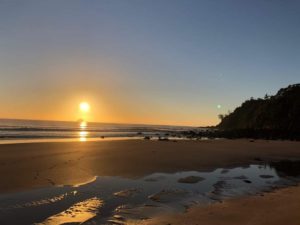 Hot water Beach at sunrise
The best part of my time in New Zealand has been that we've travelled most weekends. The North Island is seriously underrated, with stunning beaches – including one where the water is hot, aptly named Hot Water Beach – volcanoes, including Mount Doom, for the Lord of the Rings fans, and lots of geothermal features, caves (with glow worms!) and waterfalls.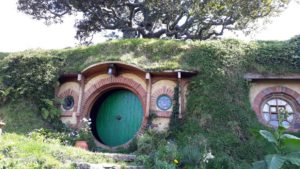 Bag End from the Hobbit and Lord of the Rings
Auckland itself is a fantastic city, with a population of around 1 million people, and always something going on. Most attractions are free for Auckland residents, and I've particularly enjoyed the many museums and parks around the city. Whilst the quality of the nightlife depends on the day, there are always good bars and pubs around, especially by the harbour, and eating out is pretty cheap compared to Bath.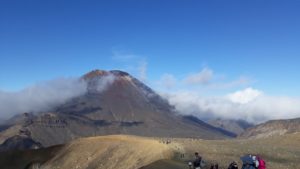 Mount Doom, real name Mount Ngaruhoe
As a sports fan, I've particularly enjoyed having Eden Park nearby; whilst the Blues leave something to be desired as a rugby team, watching them play the Crusaders and the Hurricanes, with some of the top All Blacks, has been great fun.
I'm heading off to the South Island next, which should be fantastic! Overall, my time here in New Zealand has been amazing, and this kind of opportunity is truly once-in-a-lifetime.