Author: Bassel Ghazali -
---
Team Bath Racing Electric (TBRe) has just finished its fourth year of racing and has brought home two more trophies from its exciting new driverless vehicle entry! 2018/19 has marked a monumental year for the team in both technological advancement as well as competition presence, and things are looking even more promising for 2019/20.
Formula Student is an international competition where universities from all around the world compete to design, manufacture, and race a single-seater formula-style racecar. TBRe was founded in 2014/15 by a small group of students who were interested in developing an electric vehicle as a side project during their studies to compete in Formula Student. This was inspired by the already existing and very successful Team Bath Racing, who benefit greatly from the hands-on experience gained by designing, building, testing, and racing a car competitively.
What started out as a 9-member team in 2014/15 grew to become the Top UK Electric Team title holder within a single year and we have now held that title for three years in a row. In 2018 the team became the first UK team to compete in FS China, and this year we became the first UK electric team to compete in Europe after attending Formula Student Spain.
During Formula Student UK this year, we faced technical difficulties which unfortunately prevented the car from racing. We then redeemed ourselves following a successful month of testing and a great competition run in Spain, managing to rank only four positions behind the highest-ranking team in the world.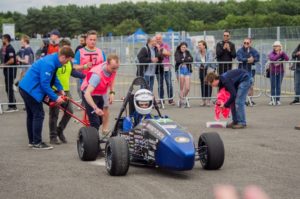 Formula Student tends to reflect the trends in automotive technologies, as was the case when electric cars were being developed. In response to the rise of driverless vehicle technologies, Formula Student introduced a driverless car competition in 2018/19. TBRe created a driverless division (TBRe AI) and we were one of the early adopters of this competition. The 2017/18 car was converted into a driverless vehicle with the help of AB Dynamics. While the car had not been fully developed by the time of the competition and could not run in the dynamic events, we still managed to get 1st place in both the Business Presentation and the Design Review events.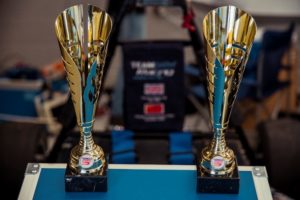 A detailed account of our year can be found here. (review here)
This year we introduced drastic design changes to the car and built it from scratch after giving the previous year's car to the driverless team. This resulted in a 60kg weight reduction, as well as remarkable improvements to handling and suspension. This year we are aiming to stabilise all the radical changes introduced to the car to increase its reliability.
We aim to secure 1st place overall in FSUK 2020 and have a fully functional driverless vehicle to compete in FSUK 2020. To follow our journey, check out our website or our Instagram account which is frequently updated with all our adventures!