Author: Filippo Maria De Leva -
---
Team Bath Drones Marine (TBDM) is a student-led team of undergraduates designing, building and programming an Autonomous Underwater Vehicle (AUV) or "underwater drone". Born as a 3rd Year Group Design and Business Project in 2015, it has developed into a competition team in the following years, based on the models of other successful teams such as Team Bath Racing, Team Bath Racing Electric, Team Bath Drones and Bath University Rocket Team.
AUVs are widely used in the offshore industry (e.g. for seafloor surveys,  pipeline inspections) and  for scientific marine research and monitoring.  One exciting potential application of AUVs  is for search and rescue in the event of an underwater disaster.
The European Robotics League (ERL) Emergency League (Sea and Land) is a competition based around a search and rescue / disaster scenario. It is open to all European teams who compete in a series of tasks in the NATO Science and Technology Organization - Centre for Maritime Research and Experimentation (STO – CMRE), in La Spezia, Italy. Considered to be one of the most challenging AUV competitions in the world, due to the presence of sea currents and saltwater, it encourages collaboration between teams whenever a problem arises. In particular, the competition pushes the most experienced teams towards sharing the knowledge acquired in the past years with the newest teams such as TBDM. However, we did have the chance to help other teams too, lending pieces of equipment and giving tips to solve some issues related to leaks in the electronics pressure vessels.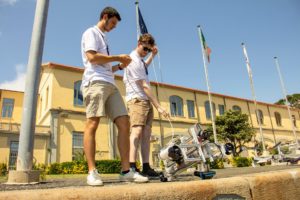 The subsea sector is probably one of the most challenging engineering fields, and what we learned in La Spezia is how valuable each member of the Team is, in particular how important it is to consolidate the knowledge acquired in our courses with practical experience, in order to deliver the best result possible. In ERL 2018, our Team was awarded the "Best Rookie Award", and in 2019 the "Persistency Award". Thriving at both starting our experience in international competitions and never giving up despite the most arduous circumstances, we are extremely proud of our results, and we are all looking forward to taking part in the Singapore AUV Challenge in April 2020, and to returning to La Spezia for the next ERL competition.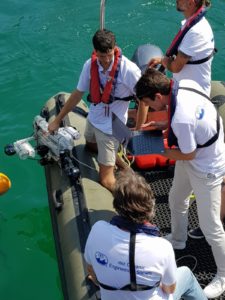 Team Bath Drones Marine is supported by the Mechanical Engineering Department, the Electrical Engineering Department, University of Bath Alumni Fund, Blueprint Subsea, and Fleed Digital Consulting, to the which we are immensely thankful. Their support is what enables us to expand, apply and share our knowledge on Autonomous Underwater Vehicles, and to proudly represent the University of Bath abroad, in top-level competitions.
Visit TBDM official website for the latest news: http://www.teambathdronesmarine.com/