Author: Zachary Delf -
---
Entry #1
Arriving in Madrid at the start of September meant that I was still able to enjoy the sun and life outdoors. Within a couple of days of arriving in my new city, I had already arranged my first training with a Capoeira school near where I was staying. Capoeira is one of the extracurricular activities I have chosen to focus on this year in my free time to continue my training and as a way to form friendships. I instantly clicked with the group and am feeling incredibly excited to continue training with my new friends, all locals from Madrid. What's also great, apart from the fact that it's merely a 2-minute walk from my flat, is that the classes are run only in Spanish and in a bit of Portuguese, forcing me to focus my attention to listen and practice my speaking.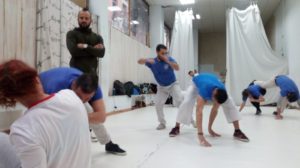 In addition to finding a great Capoeira class in my neighbourhood of La Latina, the area in which I live is full of life, occupied mainly by young professionals and families from Madrid. The little streets are filled with supermarkets, bars, restaurants and antique stores and it is also the area which hosts the famous El Rastro, Madrid's biggest street market. I'm really glad about the choice I've made for where I'm staying, and it was really an easy decision for me as I had visited La Latina before while on vacation prior to starting the exchange and plus many friends both locals and former exchange students had recommended it too. I chose to live with locals and am currently living with a South American family and another student. The environment at home is comfortable and great for Spanish practice as it appears to be the only common language among the four of us.
The months of Spanish practice through a textbook and guidance from my Spanish-speaking girlfriend has really made a difference to settling in and feeling more confident to communicate and interact with locals. The two weeks I spent volunteering on a farm in the South of Spain has certainly taught me a tremendous amount; about life and happiness in addition to improving my ability in the language. So, following my first week here and after a weekend of parties and chatting with locals over beers and music, I'm confident to say that I'll improve so much if I continue putting myself out there and take advantage of the Spanish lessons I intend to take from the University.
5 months are really short in my view and I intend to make the most of this exchange to experience a new way of learning at the joint Architecture and Civil Engineering faculty of UEM and become fluent in a new language. I plan on immersing into life in the city and forming lasting friendships with locals and other internationals! It's a great opportunity to explore more of this country which I admire so much, so I'll be sure to dedicate a few weekends for travel and camping!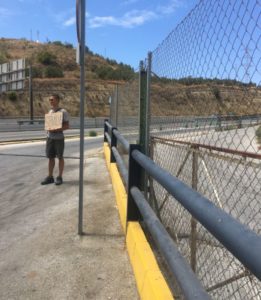 Entry # 2
I've had my first two weeks at UEM and am really enjoying it so far. Classes are well spread out and I have about 4-5 hours of contact time each day with Wednesday completely free; so here I am writing my first Erasmus Exchange Journal entry from the Google Campus, a shared workspace about 15 minutes from my flat. I've chosen to take a wide range of different subjects with a balance of Civil Engineering and Architecture themes. Classes are much smaller than at Bath, with more focus towards class participation, group working and bi-weekly assignments, and less on final exams (what a relief). Classes are therefore much more stimulating and exciting - my History of Art & Architecture class also includes time outdoors with field trips organised during the semester. The campus is great, with a beautiful lake (no ducks unfortunately), great classrooms and facilities. The staff are very welcoming and open to help International students settle in.
The only slight negative is the fact that the campus is a 30 to 40 minute bus ride away from the main bus station however I was already aware of that upon choosing to study in Madrid and as long as you can find a way to keep occupied during the journey (looking outside can be really nice too!). Transport services are great in Madrid with a monthly travel card covering journeys within the city and to the campus costing only €20 per month. Madrid is also such a beautiful and walkable city, and I've found myself opting to walk around the city to discover the streets, the neighbourhoods and life of the city. The days are warm and sunny, and the Spanish culture is laid-back so you're rarely in a rush; just enjoy the walk and admire the city!