Hi,
My name's Will Morgan and i'm one of the four Bath students studying at TUM for the upcoming semester as part of the Erasmus programme. As i'm the last one to write my blog, most of the basics have been covered by the other boys so i'll try my best to look at some other aspects of Munich but i'll start by completely contradicting myself and, like everyone else, explaining my reasons for partaking in the Erasmus programme.
Having been studying at Bath for three years ( as well as a year on placement), I have never really had the full experience of living away from home, and that was something I wanted to try before graduating. I'm from Newport in South Wales which is less than an hours drive from Bath and so every two or three weekends the prospect of a roast dinner and not having to wash my own clothes always led to me going home for a night or two. On my placement year I was working for Laing O'Rourke in Cardiff, and so lived at home so in truth i've never really been out of my comfort zone. I do, however, consider myself quite well travelled for a student and the money I saved during my placement year has allowed me the financial freedom to experience some unforgettable moments over the past two summers, most notably three weeks travelling around Italy with my girlfriend and a month in France for Euro 2016 with some friends!
So the most notable difference between my experience of Munich to Nick, Antonio and Matthew's is accommodation. Similarly to what Nick and Antonio said in their post, I found myself trawling through German student accommodation websites trying to find a room in a shared house in Munich (this is known as a Wohngemeinschaft, or abbreviated to 'WG'). Having sent over 30 messages online and received no responses, I received an email from Studentenwerk München (Munich's Student's Union) offering limited spaces for accommodation on a first-come first-served basis. As I said, I was actually looking for a place to stay when I received the email so replied within 5 minutes and now find myself in Stiftsbogen, the newest student halls to be built in Munich.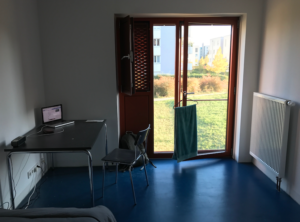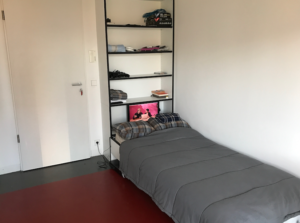 As you can see, the room is pretty basic but it's clean and light and i'm quite happy here. The kitchen and bathroom are shared with 5 other people and they are cleaned twice a week. The biggest bonus of living here is the price: i'm only paying €300 a month, bills and internet included. It takes me just over half an hour to get to the university's main campus door to door using the U-Bahn, which is actually quicker than getting to Bath's campus from Oldfield Park. The one disappointment of the halls so far is that I haven't really met many people. I was expecting something resembling first year in Solsbury Court but the people in my flat all have their own things going on so it has been slightly disappointing on the social front. Having said that, I have only been here for two weeks and i'm sure I will meet people with similar interests sooner or later. The housing situation is much different here in Munich, where the Students' Union covers the city rather than a specific university - almost like Bath having a single union for Bath Spa and University of Bath. On top of this, once you get a place in halls you get to keep that place until you graduate. This means I am not only living with people from Ludwig-Maximilians-Universität (LMU) as well as TUM, but that some people have had their room for several years.
On to my experience of the city so far - I arrived on the 1st October, two weeks before the start of lectures and three days before the end of Oktoberfest. On the day of my arrival I left my house in the UK at around 3am and the travelling left me feeling really drained. I fell asleep at 9pm, giving myself only two more days to experience the festival. I had already spoken to the boys and we'd agreed to meet up on the Monday to celebrate the final day of the celebrations, but I thought i'd head over on the Sunday on my own just to have a look round.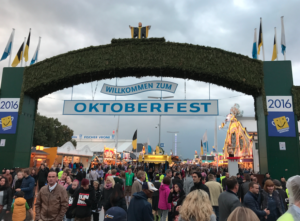 After wandering past all the rides and having a look at all of the food on offer I thought it would be a shame not to try a beer so I sat down and ordered myself a stein. By this point it was evening and the tents were all full so the only option was to sit outside in the rain. I got talking to an English tour guide and his father who both lived in Munich, had a few more beers, and before I knew it was in a box in Hofbräuhaus with a group of welcoming Germans.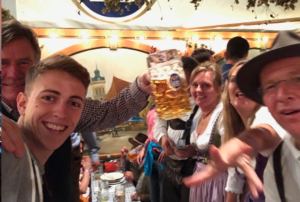 I woke up the next day feeling horrific and it took me the best part of the day to drag myself out of bed. I'd planned to meet the boys at 2pm and turned up some time closer to 7pm. It's safe to say they were slightly ahead of me with the beers and it made for a very entertaining night!
With Oktoberfest done and out of the way, the past two weeks have been spent filling out paperwork, waiting in queues and getting generally frustrated at the ridiculous amount of admin associated with living in Munich as well as the course itself. Arriving two weeks before starting the semester is definitely necessary here, and i'd say i've just about got my head around the education system as a whole. Whilst it might not be too intuitive, if you can work your way around TUMs vast number of websites then you can really take a lot away from one semester here. On top of the course itself, for just €7.50 for the semester you can sign up for the basic pass at the sports centre in Olympiapark. In the centre, you can sign up for courses in pretty much every sport imaginable at no extra cost, where you get two hour lessons every week. I am also in the waiting list for German lessons - this is also completely free and seems very well structured. None of this has actually started yet so I will give an update on it all in my next post.
I want to close out this post just by saying how impressed I am with the city and how glad I am that I chose to participate in the Erasmus programme. Munich has really exceeded my expectations and is much larger than I had expected. Within the next few weeks i'm planning on going to a few football matches at the Allianz Arena, go to a few concerts (they get some great bands playing here) and also explore Bavaria a bit more. I've also got friends and family visiting over some weekends in November and can't wait to show them this city. There's so much culture in Munich, it's just a case of squeezing what I can into my short time here!
So that's me done for now,
Bis bald! (I think that's the right thing to say)
Will