Find out how to book a slot with our photographer to ensure you have an up-to-date professional photo for your staff profile page.
As we move into 2016, we are continuing to transition our existing web content across into the new content management system (CMS). We have moved the bulk of the Faculty content (bath.ac.uk/engineering) and are hoping to see these pages go live soon.
We are now shifting our attention to content belonging to the four departments in engineering. We are starting with the somewhat daunting migration of all our staff profiles (there are over 200!). Thankfully, our Department Offices have agreed to help us with this part of the transition. They will lead on moving the content across with support from us in the Faculty web team.
As part of this process, we have decided that all staff profile pages will only display professional photos. We will not migrate any non-professional photos across to the new website.
Why are we only using professional photos?
1)    We want to present the Faculty in a consistent and professional way online. Using high quality images that all follow the same visual guidelines is a way to achieve this. We have agreed this with other Faculties so that there will be a universal consistency in how staff are represented across the University.
2)    We are hosting all our images for the new website on Flickr.com. They will appear on our web pages via an embed link. The image size and ratio specifications for the new website are different to what we use now. This means that some of our current staff photos are no longer appropriate.
How can academic and research staff get a professional photo?
Staff can book a five minute slot with Nic Delves-Broughton (our University Photographer) via doodle poll on the following dates:
Wednesday 3 February 2.30-3.30 PM
There are also drop in sessions that do not require a booking:
Tuesday 19 January - 11-11.30 and 4-4.30pm
Thursday 28 January - 11-11.30
Wed 3 February - 3.30-4pm
Photographs will be taken at Nic's studio in 8 West 1.41. They will be available to staff through the Department Offices. We will ensure that they are uploaded to Flickr and embedded on to the staff profile pages.
What will the new staff profiles look like?
Photos taken by Nic will be portrait in orientation and have a uniform grey background. We have chosen this background colour as it complements the look and feel of the new website. An example of a leadership profile in the new CMS is shown below.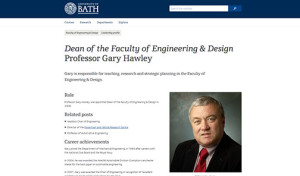 Please note the new website is still in development. For updates on the project's progress please follow the Digital Marketing & Communications blog.
If you have any questions about the transition, please email fed-web@bath.ac.uk.