Everyone's different when it comes to how they like to receive information and in what format, so we've introduced new ways for you to keep up to date with what's going on in the Faculty.
Sign up to our quarterly staff e-bulletin
Our staff e-bulletin goes out in September, December, March and June containing a roundup of Faculty news stories, blog articles, opportunities and events. The email is an opt-in service so staff need to sign up to receive it.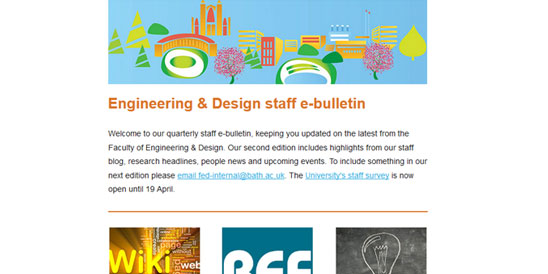 You can view our first editions here:
Staff can submit items for inclusion in the next e-bulletin by emailing fed-internal@bath.ac.uk
Subscribe to our Faculty staff blog
Our blog is for staff to:
share their experiences
provide insight into working practices
highlight new initiatives
define best practice
promote staff events and opportunities
You can subscribe to receive blog posts straight to your inbox by typing in your email address on the right side panel. After you have submitted your email address you will receive an email to confirm your subscription (you may need to check your junk email for this) - please make sure to click the confirmation link.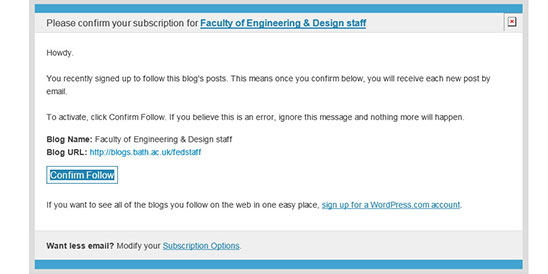 The best posts from the blog are included in our quarterly staff e-bulletin and may also be featured on the University's staff homepage.
Posts are created by individual members of staff. Anyone who wishes to contribute a post to the blog can email fed-internal@bath.ac.uk and read the University's guidelines on blogging style.
Keep an eye on our foyer TV screens
The TV screens in the 6, 4 and 2 East foyers now display staff notices and event slides. You can see an example below: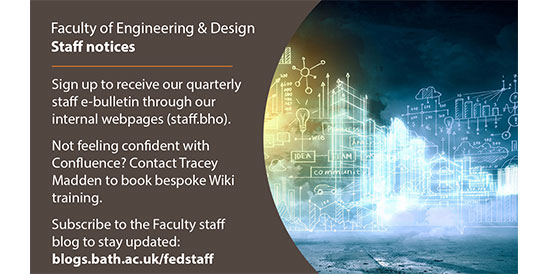 Staff can create their own slides for the screens by downloading a template from our Marketing & Web Team Wiki page.
Watch or favourite the Faculty staff wiki area
Our new Faculty of Engineering & Design staff wiki space is currently under construction. This is where team overviews, structure charts and Faculty events are listed. You can favourite wiki pages you find useful so that you can easily find them again.
If you would like to be notified when anything changes anywhere on a wiki space or just on one page in particular, you can use the Watch facility. This notifies you by email with details of what has changed to the wiki page and who made the changes.