Changes are afoot for parts of the Faculty support teams – so brace yourself for multiple moves and two new centres.
During December 2016 and January 2017 we will be relocating support services into more suitable environments to support our activity for the academic and student community.
New Faculty Student Centre
Our first major change will be the creation of a new Faculty Student Centre, which will be located in 2 East 2.4.  This centre will become a one stop shop for all students (UG/PGT & PGR), incorporating the Undergraduate Office and Graduate School.
This will provide huge benefits to our students and the key aspects are:
One stop shop
Consistent advice
Clear signposting
Enhanced student experience
For the academic community we hope this office becomes your one office for everything, we will be:
Assisting and enabling effective interactions between university and academic community
Working in tandem with the efforts of our academics
Improving the quality and resilience of our service
Providing support for academic goals and growth
The new team have already taken part in an away day to prepare themselves for the future, please read their blog post capturing the highlights of their day.
There are also benefits for this new team:
Improved line management and career development
Increase opportunities for cross fertilisation of ideas
Maximise on efficiency and utilisation of resources
Manage effectively the absorption of new systems and ways of working
We have made some changes to staff line management also, the organogram below will provide the further details: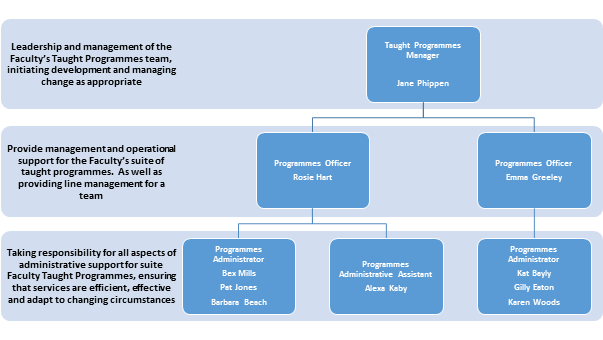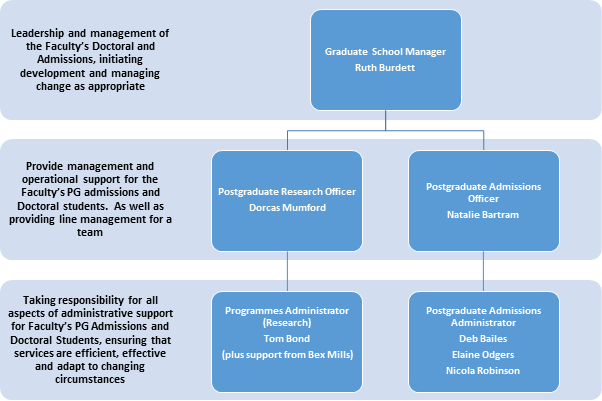 A new Faculty Placement Centre
Our placement activity has grown over the years and is a vital part of our offering to our students.  The team has been squished into their current location for long enough, it is time for them to break free.  The new Placement Centre will be located in 4 East 2.2, providing drop in space for students and additional one-to-one space for staff and students to meet.
Other relocations
Our Technology and Learning Advising team will be relocated in 4 East 2.8, so please pop in to take advantage of this service – we are especially fortunate to have this support in the Faculty.
Student Experience is a vital function for the Faculty, so Louise Lynes (Postgraduate Student Experience Officer) and Sarah Stead (Student Experience Officer) will have a brand new easy to access location, 2 East 2.7.
To enable these moves to happen the Faculty Finance Office will be relocated to 2 East 3.10, with Jane Phippen and Ruth Burdett relocated 4 East 3.4.
To confirm all other Faculty level support will remain in their current locations:
Graduate Admissions – 2 East 3.11
Marketing & Communications – 2 East 3.13
Faculty Office 2 East 3.8
Please be patient with us during this time, we hope you will not notice any disruption in service and we look forward to working with you all in our new locations.