This is my 9th blog about my placement year at London 2012 Olympic legacy charity Join In UK.
Trip to the West End!
One of the 'classic' London things to do is to see a musical in the West End. I have been meaning to go all year! My sister, Lizzie, is the singing and acting one of the family, so I asked her to chose something for us to go and see. I was up for seeing anything, as long as it was upbeat.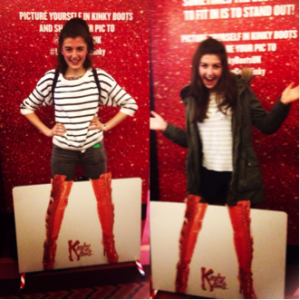 She suggested Kinky Boots, which we went and saw at the Adelphi Theatre one evening after I finished work. It recently won a few Olivier Awards and had a great write up. The theatres in London always surprise me at how big they are inside compared to what they look like from the outside! It was a fantastic show! The singing and dancing was amazing and it was a very upbeat play! It was also funny too, so definitely one I would recommend to anyone.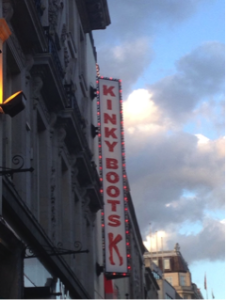 Behavioural Insights Event!
I was lucky to have the opportunity to experience one final event at Join in, before I finish. This was the launch of their new research called 'Making Time', defined as "providing a comprehensive new look at the behavioural science around volunteering and in particular volunteering in sport, the UK's biggest sector."
The research was conducted with support from BT (Join in's founding partner) and Simetrica ( a specialist social impact research organisation).
The research primarily focussed on who volunteers are, how often and why they do it (the benefits and motivations). The reasons why people don't (the barriers), and then considered how behavioural science principles might be used to play up these benefits and motivations and overcome these barriers.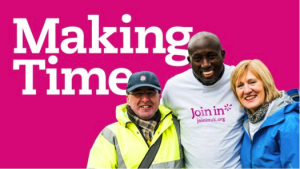 The event was a 'breakfast' meeting, which meant it started at 8am! So I had to be there early before hand to help set up and greet the guests. Of course the morning wouldn't go without a train drama! There's me thinking the 5:30am train I had to get on I would be guaranteed a seat and a smooth, quiet journey- nope! A fire at Vauxhall at 3am earlier that morning caused severe delays, over crowded trains and me panicking I wasn't going to make it in time. Fortunately I made it only 30minutes late and didn't get lost finding the venue!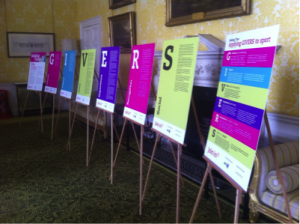 The event took place at a Cabinet Office building, unfortunately I am unable to disclose the name of the venue due to security purposes, but it was a very nice building! My role at the event was signing the speakers and guests in, which was an excellent chance to see who was there and put a face to a name. The guests included people from Cabinet Office, charities, NGB's and general sports enthusiasts. There were a couple of Lords and Dames there too! Baroness Tanni Grey-Thompson was one of the speakers, along with Join in patron comedian Eddie Izzard. Eddie Izzard definitely had a presence about him that made him stand out, you can always tell when someone is famous!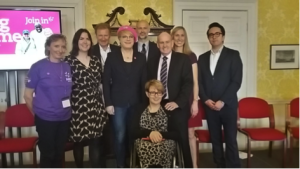 A fro- yo and catch up on work life!
Another Sports and Social Science student who is working in London is Lucy Gell. Lucy is working at Samsung, so is "big time" in the corporate world. It lovely to see a friendly face (well 99% of the time 🙂 ) from Bath! It has definitely been interesting and entertaining comparing our placement experiences as well as an excuse to go for a fro-yo!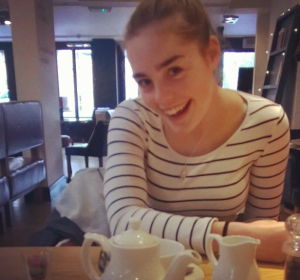 Louise Rose
(Sports and Social Sciences)