Final countdown at the SHPI - 1 month, 6 days, 16 hours to go...
---
We can't believe how quickly this year is going!
The last month has been one of the busiest yet, full of health checks and fitness tests!
NHS Health Checks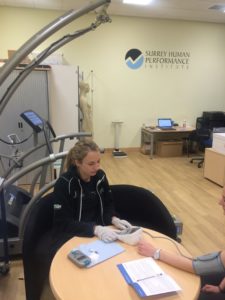 This year the lab has started delivering NHS health checks, an initiative aimed at making people aware of how their lifestyle affects their cardiovascular health. This involves a cholesterol test, blood pressure and BMI check as well as diet and exercise related questions. The health checks have been a great opportunity for Roisin and I to learn more about the health side of Sport and Exercise science as opposed to working with athletes.
GB Army Boxing
Over the past couple of months we have been assessing the body composition progress of a group of GB Army Boxers. Not surprisingly the post Christmas assessment saw fat gains across the board, training has since put them back on the right track! Recently the boxers had an resting energy expenditure (REE) assessment, this test involves lying down in a rested state whilst wearing a facemask which allows us to analyse the level of oxygen inhaled and carbon dioxide exhaled. This lets us determine how many calories a person needs each day to reach their weight targets, safe to say we were extremely jealous of the amount they get to eat!
Case Studies
Since January we have been providing sport science support to two of Guildford City's swimmers. Unfortunately for us, swimmers train either early in the morning or in the evening which has meant some late nights and heavily caffeinated mornings! Our earlier lactate testing in the pool with Olympian James Disney-May proved to be good practice and we have now collected data for our two case studies over numerous different tests. Both have showed a steady improvement over the season and are posting some impressive times at swim meets, as well as each having ambitions to reach the Olympics in the future.
Alongside all this work we have of course found time to stay active and are making good progress in our tennis abilities...should be about ready in time for Wimbledon.