South Africa is a famously multilingual nation. It has eleven official languages, so usually you converse with others in their second or even third tongue. This makes you ever and painfully conscious of your status as a monoglottic imbecile. Especially when watching your colleagues struggle to comprehend the flattened droning of Mid Ulster English.
This has been even more noticeable in my work, where I consult with clients from across the Africa. Whilst working here I have heard many languages for the first time, Tigrinya or Amharic having never passed through my virgin eardrum. I have one extremely impressive colleague who can speak over seven languages, which in the South African context is only somewhat impressive. By contrast I am reminded of Northern Ireland's more limited linguistic palette, where what contrived multilingualism we have is tainted by public representatives' tiresome abuses and political point scoring. Curry my yogurt indeed.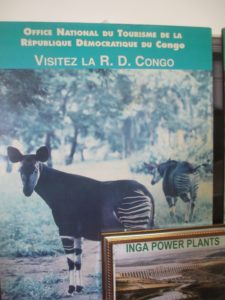 Having gained little ground with my optimistically acquired copy of 'Teach Yourself Zulu', I have been trying to displace my Anglo-phonic embarrassment by ameliorating my French (do you see what I did there?) Most of our clients at work come from the Democratic Republic of Congo, a Francophone nation, so this has been fruitful. It's also been enjoyable, as I've an immensely friendly class. We go for pizza every Wednesday.

Aside from the obvious benefits of learning a language which are well documented, I would recommend anyone away from home for an extended period to join an Alliance Francaise, or similar cultural institution. Friendless in a strange country, these can be a great way to get a social life started.

A particular highlight a month or so back was the Francophone festival. Here representatives from various Francophone counties laid out little table displays in a sort of fête. The Canadians plied us with beautiful pastries and Belgians tried not to look ashamed as they handed out Stella Artois as the drink supposedly representing their culture. At the stand for the Cote d'Ivoire, I got to hold a cacao fruit for the first time in my life, and I had a long and interesting conversation about the Comoros Islands: a country which I had never even considered going to, and probably still won't any time soon. Also the Bulgarians were there for some reason no-one, including the Bulgarians, could explain to me.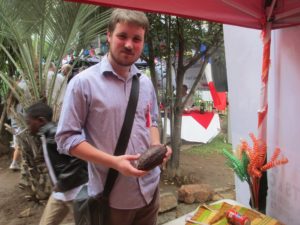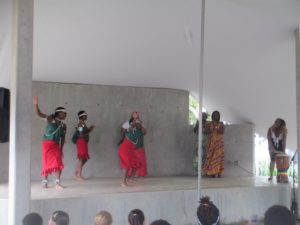 There was quality performance as well, with the Burundians putting on some fine dancing which I enjoyed whilst scavenging for ever more free food. It was particularly refreshing for to me to see the positive and vibrant side of countries whose image is negatively obscured in my work. This year nearly every time I've hear about Burundi and the DRC it has been in the same breath as descriptions of brutal violence and poverty; it was good to be reminded these are just single facets of bigger pictures.

Another memorable curiosity was an exhibition of art by a woman called Coral Fourie who had grown up amongst the Bushmen of rural Botswana. She has made a beautiful book, telling in French and English the stories of what I learned to be an extremely threatened community. Alongside this are reproductions of the art and imagery of the San culture, and some of her own inspired work, which you can look at here. You could reasonably fear that an Alliance Francaise might be some outpost of cultural imperialism, focusing single-mindedly on French Culture and dripping with stuffy Sorbonne pretension (mind you they did have some pretty raunchy sculptures in last week that only the French could get away with). I hope the experiences I've put to you show this is not so, and that the Alliance is an engaged and dynamic way to experience a new and unfamiliar place and culture.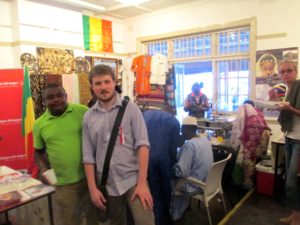 In the context of placement taking language classes are enriching because you feel you are developing a skill. I have something useful to do in my spare time and structure in my week to keep me motivated. At university, the constant learning can be almost overwhelming so that the thought of yet another class - a language class at at that - can seem overwhelming. I have felt this many times at Bath. But at work, with it's focus on set tasks and routine, going out to learn something and improve yourself is refreshing. It is worth preserving the energy to do this if you can.