Nearly 4 months in now and I can say that deciding to move to Adelaide to spend my placement year at the South Australian Sports Institute has been one of the best decisions that I have ever made. SASI has welcomed me with open arms, I have met and worked with some incredibly talented people, and I am learning something new every day. So I wanted to use this blog to talk a bit about the work that I have been doing.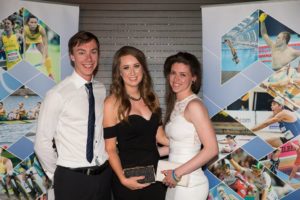 The 'Bathies' at the SASI Awards this year – us Brits scrub up well!
My placement has enabled me to see the different areas of SASI which have included Physiology, Talent Search and Strength and Conditioning. I have also worked with the Australian Paralympic Committee, who are based at SASI. This has been extremely advantageous as I have been exposed to different teams and different areas of Sport Science. As I am not entirely sure what area I want to go into yet, this has been a nice introduction to some of the pathways that I could follow in. It has also allowed me to develop a good rapport with many different staff members.
Exercise Physiology
Exercise Physiology is defined as the identification of physiological mechanisms underlying physical activity and the delivery of treatment services concerned with the analysis, improvement and maintenance of health and fitness. At SASI, this is related to elite athletes, and elite sport, so the goal in Exercise Physiology at SASI is to improve athletic performance through various means and as a result help South Australian athletes to win medals at the Olympic Games. As a Physiology placement student at SASI, I have helped with the field and lab testing conducted by the Exercise Physiologists. In the lab, I have helped to run Haemoglobin mass and lactate threshold tests. The haemoglobin mass test was to evaluate the effect of a block of altitude training amongst 3 of the SASI kayakers. The lactate threshold tests were to determine the training thresholds for the U23 rowers, and some of the kayakers. This type of testing helps to quantify athletes' training, so they know essentially how intense to train (in terms of heart rate, VO2, power output and stroke rate) for them to accrue performance benefits such as increased aerobic fitness, or more anaerobic speed and power. I have also helped with field testing, such as conducting the beep test, agility tests, sprint times and vertical jump for hockey, beach volleyball and netball athletes.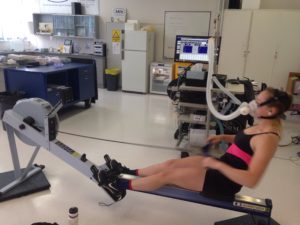 A SASI rower being tested in the Exercise Physiology lab. They were carrying out a 7x4 test to determine their lactate thresholds and the associated variables, and some maximal data including heart rate and VO2.
Alongside the testing, I have also learnt about load monitoring, and how coaches and exercise physiologists do constant monitoring of athletes, through a plethora of performance and general wellbeing measures, to ensure that training effects are maximised. This has involved me being exposed a range of new computing programmes such as PolarFlow, Adapt, Training Peaks, Athlete Monitoring System, and to some of the more advanced features of Excel.
Talent Search
I have been massively involved in the Talent Search area of SASI, something very new to me and as such I have thoroughly enjoyed it. The SASI Talent Search Program is a fantastic initiative that selects athletes from Adelaide based secondary schools and Universities that have the potential to represent Australia on an International level in one, or more, of the talent search sports which include rowing, kayaking, beach volleyball and cycling. The program has shown great success, with a large number of athletes representing Australia at the Rio Olympic Games coming from the talent search pathway, and being identified from school, having never played their sport before! The steps are as follows: Phase 1 = secondary schools send in their athletes' data which includes tests like the beep test, 20m sprint and vertical jump, along with height, weight, arm span and seated height. We then choose the top 2.5% of students, and as part of Phase 2a, go to the schools to test the athletes ourselves. At this stage, we do the same tests, to confirm the data that the schools have provided us with. This year, we expanded Phase 2a by going to test in 2 of the Universities in Adelaide, and also arranged a 'Come and Try' event where we were looking for raw talent in the sports. The next stage is sending all of this testing data to the coaches for the sports, who then narrow the athletes down even more to progress to Phase 2b testing. This year, we received 3466 athletes' data from 36 schools in Phase 1, we tested 1034 from 36 sources in Phase 2 and chose 467 athletes for Phase 2b. Phase 2b testing involved the athletes coming to SASI to take part in more sport specific testing. This included strength testing in the gym for kayaking, various ball drills / skills for beach volleyball, a 6s and 2min sprint to determine power and cadence for cycling, and strength, power and endurance tests for rowing. From this, the coaches again look through all of the data and select the best of the best athletes for Phase 3. Phase 3 is the final stage of the pathway, and these athletes are then invited to be a part of the State Development Squad. This year we chose 121 athletes, across the 4 sports, to join the state development squads. From there, the hope is that they make state teams, then national teams, and hopefully get offered a SASI scholarship to train here, and hopefully progress to national sporting bodies for their sport, and represent Australia at the Olympic Games.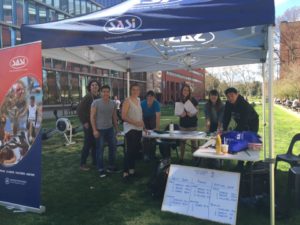 This was me running the Phase 2a testing at Adelaide University (Note that I am wearing shorts, and this was taken in September on a 25 degrees day!!)
Strength and Conditioning
As part of our placement, we have been given the opportunity to complete our Level 1 Australian Strength and Conditioning Association qualification which now that we have all passed (yay!), we are qualified strength and conditioning coaches. As part of this, we had to observe 30 hours of strength and conditioning coaching in the SASI gym, which enabled us to observe many different athletes in a large variety of sports train, and see the types of training that the coaches have prescribed. As a result, we now supervise the SASI Staff training hours, where we are able to offer our insight and expertise to the staff members (although most are way fitter and more qualified than me so it ends up being a very quiet session!).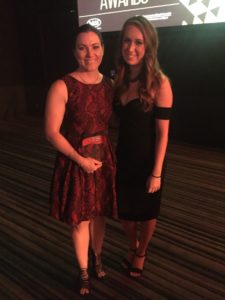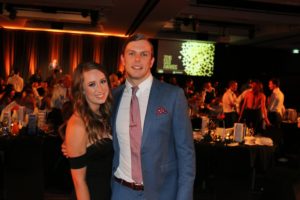 It's not every day that you get to see Olympic athletes train, or better yet, go to an awards night and have a drink with them! On the left is myself and Kyle Chalmers, Australian superstar swimmer who bagged himself two gold medals and one bronze medal at the Rio Olympic Games, at his first international swimming event and aged only 18! On the right is myself and Anna Meares (I hope that you didn't need the explanation), world famous and world best (sorry Vikky P) cyclist, another Olympian who won a bronze medal at Rio, to add to her collection.
Australian Paralympic Committee
As it was pretty quiet for me in Exercise Physiology post Olympics, I asked the Australian Paralmpic Committee (APC) if they needed any help or had any jobs for me to do. They readily accepted my offer, and ever since I have been working on a Post-Olympic performance profiling database and now report for Swimming Australia. This has involved me recording every medallist in every Paralympic swimming event from the games alongside some historical data such as their first Paralympic and World Champ appearance and time, details of their impairment, annual best times over the past 8 years, and many other details. Now that I have done all of the data entry, I am helping the Australian Paralympic Skill Acquisitioner write a report for Swimming Australia about the classes that Australia can target to win more medals, or identify which classes / events Australia performed the best in at the games. This has been a great project, as it has exposed me to Paralympic sport, and what can be done with numbers, and the wonderful Excel!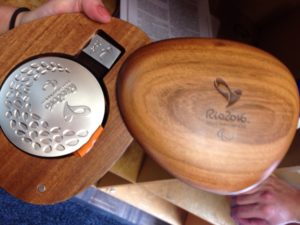 A Silver Paralympic medal from the Rio Paralmypic games that I got the pleasure of seeing (and holding!!), won by Sam Von Einem in table tennis, a proud SASI athlete, and overall legend.