When all through the house,
Not a creature was stirring,
Not even a mouse,
The flatmates were hungover and in need of some care,
With hopes that pain relief soon would be there
You will have to excuse me, yesterday was my last official day of work at the lab for 2014 and I drank a little too much tonic water (no gin though, I follow the rules here). Fact of the day: American bacon is a poor hangover cure compared to our beloved back bacon. The fat to meat ratio is all off and crisps far too easily to be efficient in a muffin. It's just not the same.
So I have been in Boston for over 4 months now and it is scary how quickly the time has gone by. I think I can say I am officially settled – I know where the closest post office is, what time the supermarkets close and which ones have taster stalls, which corner shop is most likely to give me quarters so I can do my laundry and I have found which store sells the cheapest pasta and cheese (fyi, it's Trader Joe's). I have only almost been run over by a car once – which is impressive, considering the blatant lack of interest Bostonians have for the highway code – and I now know not to cycle on roads that turn into dual-carriage ways (that was a slightly terrifying few seconds, followed by a rush of emotion that I still have the rest of my life to live).
Last weekend we threw our first party; another testament to how well we have settled into our new lives across the pond. People came, which is a nice sign that we have not completely failed at making friends over here and we were only threatened by the neighbours once (not because of any noise disturbances, I think the man was just angry he didn't get an invite).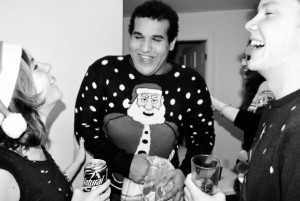 Tomorrow is Christmas day and it will be the first time in two decades that I won't be spending it with family or cats. Beth has gone back to England and has been temporarily replaced by Emma's boyfriend who is here for a couple of weeks. We are trying to make this as authentic a Chrimbo as we can, but it has been difficult since a few key things are missing over here – for example, Americans do not seem to do Advent Calendars or Christmas crackers and the dollar store ran out of tinsel.  We do, however, have a (fake) tree and there is a large collection of presents underneath it. 90% of those are for Emma and her boyf; Alex gets his on the 26th when his mum comes to visit so will actually be opening his presents on Boxing Day like God intended. I had three presents under the tree from an admirable contender for the greatest friend in the world. This seemed a little sad (my mother decided the dressing gown she sent me in September fulfilled any gift-giving duties for the rest of the year), so I wrapped up the snowboard I bought on Craigslist and put it with the other gifts. It's pretty big so slightly overshadows anything anyone else has – sorry guys.
Not being home for Christmas will be weird and sad for a number of reasons, but I will definitely miss my mum's cooking the most. I am apparently going to attempt to cook a proper Christmas dinner and roast a whole turkey for four people tomorrow. I imagine it will be just like roasting a chicken, but slightly bigger and easier to ruin. We shall see how that goes, especially since wine o'clock starts at breakfast (for those old enough to drink).
We even followed an old-fashioned Christmas tradition and went to see a ballet. Actually, it was more like festive burlesque; a show called The Slutcracker and possibly the most ridiculous but amazing thing I have ever witnessed. It closely followed the story of The Nutcracker, except the protagonist was a man dressed as a glittery pink sex toy instead of a child's doll and Drosselmeyer was giving the recently-engaged Clara the gift of a better sex life. I think the message was "love yourself at Christmas" but I cannot be sure.
While I am very excited for Christmas, I am looking forward to the next day and following weeks even more, when I will be setting off for New York, Toronto and Montreal. I am effectively taking a holiday from my holiday. This past month has involved me trying to save up as much additional money I can for the trip, including not buying a bus pass for the month and walking to and from work every day instead. As well as saving $50, I also thought this would help make me fitter, but I stepped on the scales yesterday for the first time in months and have discovered a few extra Kg's that were not there before. That could all be muscle though right? From the walking?
Anyway, I'm off to season a turkey.
Happy Christmas to all and to all a good night!