As I have said before, one of my major aims this year is to see as much as I can in as many different places as I can get to. That, and to seek out various restaurants from Man V. Food. The variety of affordable long-distance peasant wagons (or "public transit", as they are more commonly known here) in America makes travelling around pretty feasible – so long as you do not mind spending what feels like an eternity on the move. Before coming to Boston, I had barely scratched the North American surface. In previous years I have visited and loved New York, briefly spent some time in New Jersey and explored the rich wildlife of a North Carolina university campus. America is so massive that proportionally, that is probably about the same as going to the UK and only visiting Bristol, maybe also stopping of in Bradford-on-Avon (disclaimer: I have not based that on any mathematical proportions).
One weekend we found ourselves bored of watching Suits on Netflix and decided to entertain ourselves by booking a short holiday in Canada. Columbus Day, like Thanksgiving, is another one of those American national holidays with a slightly dodgy history. I'm not sure our mate Chris was as decent a chap as the holiday suggests, what with the slavery and killing, not forgetting the "New World" was already pretty ancient by then, but you are not likely going to catch me offering to work over the holidays for moral reasons. This particular holiday fell on a Monday, which meant we had the opportunity to use the long weekend (plus half the Friday we took off from work) to enjoy some city-hopping and visit Montreal (or Montréal if we're being fancy) for a few days. This decision was definitely not driven by our desire to be legal drinkers again, nor did we spend two weeks talking about all the time we would be spending in pubs and bars. That would be pretty tragic.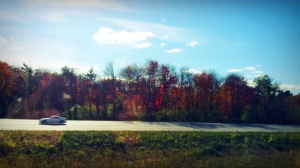 (On the road – the view was the best thing about travelling by bus. Well, that and the free wifi)
It took us ten hours on a Greyhound bus to get to Montreal. TEN hours. We were promised eight, but apparently the traffic slowed us down and by that point a couple of extra hours did not make much difference. The questionable ergonomic design of the seats had already sealed my back-ache fate and I still had enough pre-cooked pizza to keep me going. Our main concern was that we would get to the hostel too late and no longer be in the mood to go out on the Friday night, as that delay meant we arrived at 1.30am. In fact, we timed our arrival perfectly – what seemed like everyone from the hostel were just about to leave to go clubbing as we stepped through the door. No time to change, barely any time to learn a few names, off we went on a sort of boozy pilgrimage deep into Montreal's nightlife. We soon found that the hostel we were staying at –Hostelo Montreal –  was just up the road from an area amusingly known as "Gay Village", which was absolutely buzzing at the time due to some sort of "gay-benefit dance festival" going on. Free entry (compliments of the Hostelo) cheap drinks and the most enjoyable bump n grind hits at a club called Sky made for the night out we had been longing for since being re-branded as under age in Boston (apart from maybe that one room upstairs that I could have sworn was solely occupied by shirtless men dowsed in highlighter ink, dancing to unidentifiable electro music).
This may come as a surprise (mum), but we did not spend the whole weekend day drinking and clubbing. Ok, so we went clubbing every night, but we did no day drinking. When we were not chilling out in some sort of park, we were trying to be as touristy as we could in three days, on limited funds. It was at times a struggle, sure (some say hangovers and exploration do not mix, but I denounce that sort of can't-do attitude), but the weather was perfect, the autumnal trees were glorious and there were plenty of interesting places to visit in walking distance from the Hostel (which I give top marks to, in case anyone is interested).
On our first day we decided to check out Mont-Royal; a tall hill standing behind one of the many parks you can find in the city. The forests covering the hill were beautiful with their rich orange, red and yellow leaves and the view from the (almost) top was breath-taking. We took a few breaks at various vantage points to look out over the whole city, spot significant landmarks and see sections temporarily dimmed by a passing cloud.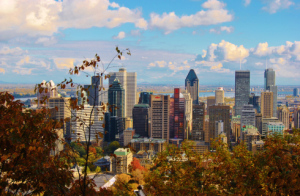 Transport in Montreal is so expensive it's almost nauseating. That was fine though, as walking was definitely the best way to take in the sights. Even if you are not looking for specific landmarks, you will come across a number of incredibly designed buildings. Architecture there is pretty fantastic; you could find a Gothic castle-like building in between a couple of normal-looking apartment blocks, or a huge Art Deco building standing alone off the side of a road. Some streets have a fantastic mixture of ancient but huge structures and modern cloud-reaching office blocks, while others display some impressive street art.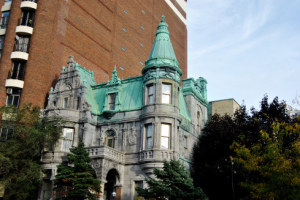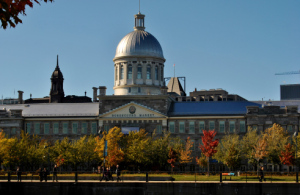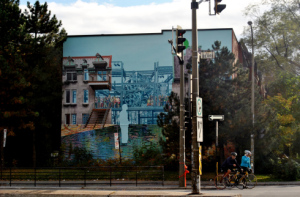 We dedicated a whole day to checking out "Old Montreal" (or Vieux-Montréal, if you're fancy) and suddenly found ourselves transported to a village centre in France. This area is so lovely I almost squealed. Minus a science museum and the odd convenience store, Old Montreal is absolutely a step back in time, thanks to the well-preserved but disused train tracks, horse-drawn carts and archaic buildings. We aimlessly wondered down streets with cute little shops and cafés and dawdled in a square with more cobbles and francophones than Covent Garden.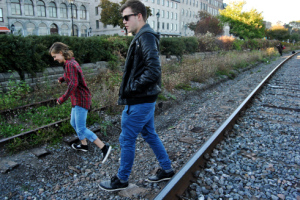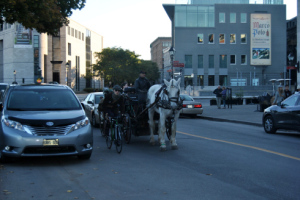 (When you can't find your car keys)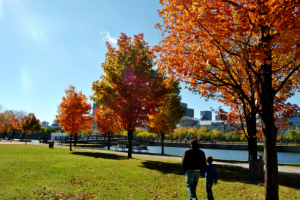 (Did I mention it was Autumn?)
On the last day, we walked from the hostel to the site of the 1976 Olympic Stadium. Google Maps made this look like a fifteen minute stroll, when in actual fact it took us over an hour to get there on foot (a single bus ticket was something like $3 and I had already thrown most of my money at crêpes, tequila shots and a Chinese buffet). Everything looks so much closer together on a phone screen and everyone knows Google Map estimations are for people who don't do walking. Admittedly, I momentarily forgot I am one of those people.
We went to see the impressively futuristic stadium structure and had a vague plan to buy tickets for at least one of the tourist attractions in the area, including a biodome, a botanical garden, an insectarium and a planetarium. You could also take a ride up in the stadium's tower – awfully exciting! However we quickly realised that, unsurprisingly, every one of those things cost an unjustifiable amount of money, money we were very rapidly running out of. So instead of picking one and buying a ticket, we ended up doing what I like to call 'budget tourism' and surveyed the lobby and gift shop of each attraction. In some of them we did actually see a few interesting things, in others we just used the loo…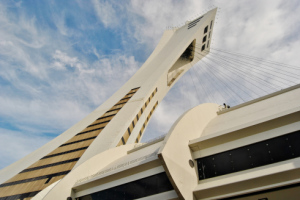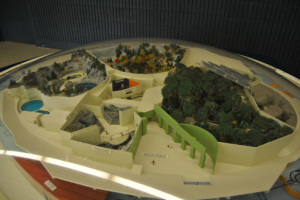 (A to-scale model of the biodome – almost as good as actually going in)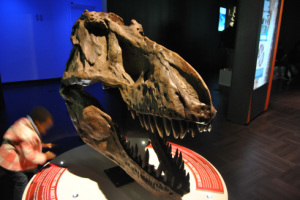 (A shocking model planet in the lobby of the planetarium)
Although we did not indulge in pricey sightseeing that day, I did not feel remotely disappointed. The reason for this was because I was still on such a massive emotional high from the night before. Now, I am not about to admit that my main reason for going to Montreal was because, back in August, I read about an all-bacon bar opening there at some point in autumn. Nor am I going to admit that I looked up the distance of our hostel to said bacon bar multiple times before booking to affirm that it was within a reasonable travelling distance.
What I will say is that evening we went to Bar Brutus and a bar has never made me so happy. I am pretty sure I did not shut up about this place for three weeks prior and the entire time we were in Montreal. Before we even entered the bar, I knew I was about to walk into my own version of heaven. Barber's poles with bacon rashers replacing the traditional blue, red and white stripes framed the wooden door, which was adorned with a piggy door-knocker. Immediately upon entry the smell hit us; a gloriously irresistible, smoky, calorific scent permeated the air, wafting from the on-site kitchen where they COOK THE BACON and filling the nostrils of every lucky punter. Never have I so willingly breathed in the air of a public toilet and I almost cried when I was washing my hands andSnoop Dogg started playing. This bar had everything; bacon-flavoured beer, bacon garnishing, bacon infused vodka and gin, bacon shots, bacon on every bar snack and the beautiful partnership of JT and the D-O-double-G coming from the DJ booth. Also known as perfection.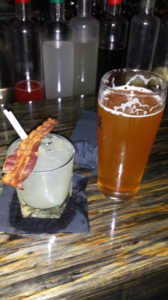 (I got a "Pork Soda", while Beth opted for a pint of bacon beer)
I am not intending to make this blog a travel guide, but if you do go to Montreal (whoever "you" are) and believe yourself to be a fellow bacon lover, you absolutely have to go to Bar Brutus. Not only was this a highlight of the trip for me, I could go as far as saying that it was a highlight of my life…
Some other very enjoyable things occurred while we were away. Columbus Day also conveniently takes place on the same day as Canadian Thanksgiving. I still have absolutely no idea what that celebrates, but knowing the Canadians it is going to be something lovely and joyful. We were treated to an amazing Thanksgiving meal at the hostel with the other guests, for a mere $5. This was a big deal as it was our first Thanksgiving meal of any type, so we were giddy with happiness to see the huge turkey come out of the oven, the massive pot of mashed potato travel around the tables and the presentation of pumpkin pie. To me, pumpkin always seemed like a bit of a useless vegetable, other than for Halloween mutilation purposes. However, that pie proved that anything can be improved with the right amount of sugar and pastry. My endless compliments to the chef.
On our last night, we had a second Thanksgiving meal at the flat of a friend of mine from university. It had been quite a long time since I had seen her last, so getting to have a face-to-face catch up was so lovely – the meal was an extra bonus. She and her friends put together an incredible dinner with turkey, cranberry sauce, roast potatoes and butternut squash soup, which kind of puts our American Thanksgiving attempt to shame (although I must once again stress that it was achieved largely under the influence and was therefore a phenomenally good effort).
As the saying goes, it ain't over till the fat lady sings. By the end of the meal we all felt like the aforemetionned chubby mademoiselle, singing our praises to the vaious chefs. Eventually we had to leave and head back to the bus station, to cross back over the border and resume our lives in Boston. Getting into Canada is no big deal, getting back into America is a different experience. While you wait at customs to be grilled by border control to enter the States, you cannot help but feel a strange pang of unfounded guilty consciousness. I reminded myself that I am not, in fact, a drug smuggler or an illegal immigrant, before it was my turn to be asked numerous unnecessarily personal questions by an officer.
After seven and a half hours on a bus, we arrived back in Boston. Crashing through the front door at 8am left us with just enough time for the fastest of showers and breakfasts before we had to leave for work. That Tuesday was probably the darkest day of placement yet, but it was definitely worth it for the most excellent weekend away. Three days are never going to be enough to get the feel of a whole city and you feel like a bit of a phoney when you stay at a hostel with people who have been travelling for months, but the long weekend and Montreal's "closeness" to Boston was an opportunity we were very willing to take, at the sacrifice of one day of exhaustion.
Since I did not have the chance to go to the cat café there or eat poutine, two very essential Montreal experiences, I will be heading back there for the New Year. I think I also left some of my heart in Bar Brutus and would like to get that back (I am worried that I may never love again).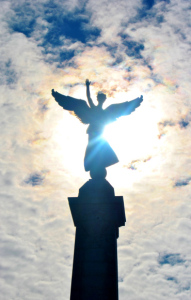 ---
More and better quality photos can be found at https://broughtrotting.wordpress.com/2014/12/01/crossing-the-canadian-border/