Firstly, I would like to give thanks for the five day weekend I have just enjoyed. Thank you, whoever "you" are. I am still unsure about that one…
The beginning of the "holiday season" is apparently the time America feels it is appropriate to start playing Christmas music and covering their cities and homes in festive lighting. We went to see the lighting of Boston's biggest Christmas tree (also the largest one in New England, according to someone) at Faneuil Hall Marketplace. Not only is Faneuil Hall, or "The Cradle of Liberty", part of what is known as The Freedom Trail and is therefore another touchy British independence landmark, but it is also the site of a packed food market where you can buy a sandwich the size of your head. To me, nothing says "Christmas" better than a collection of tasters, so we spent an hour or so "tasting" what we could as we shameless walked up and down the row of stalls.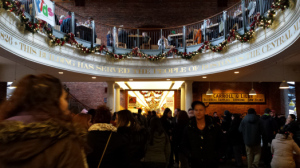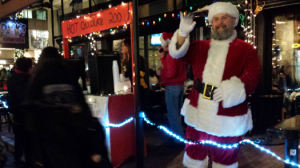 (A bit early Santa… It was only the 22nd of November)
At some point, we stopped eating and found a spot to watch the tree lighting. This involved enduring (possibly too harsh a word, but it was damn cold) a display of various pre-lighting entertainment, including music, dance and an appearance from none other than McLovin (apparently Christopher Charles Mintz-Plasse's dad is from Boston or something). The jazz band and the short preview from Boston Ballet's The Nutcracker was great, but I do not think "Rudolph the Musical" is quite my bag. After about an hour of this, broken up by advert breaks because it was being filmed live and America loves ads, the lights finally went on. Not only were they switch on, but they were lit up to the music of "Hallelujah". Very ceremonious, very very surreal.
---
I thought I understood Thanksgiving – a national holiday for families to get together, humble-brag, forget about the awkward pilgrim/Native American elephant in the room and eat immense amounts of food – until I saw pictures of the New York Thanksgiving Day parade. It looked like the whole show was dedicated to the giant, inflatable children's characters moving down the streets. Why was Thomas the Tank Engine there? Are we thanking the Power Rangers for all the good they do? What are we even celebrating??
From what I have come to understand, Thanksgiving for a lot of people is used as an excellent excuse to get off work for a few days, eat questionable amounts of food and maybe spend time with important family members. It is also an excuse to hold a number of pre-Thanksgiving meals or parties, where you do almost exactly the same things as you do on Thanksgiving, but with friends instead of relatives. We went to two such meals and did one ourselves in the space of eight days; it has been excellent. I rapidly reached the stage of food-induced regret at the first one, brought on mainly by someone's contribution of a baked brie (hardly my fault). At the second I over-ate once again, but I drank far less wine so the space was there. So was the sweet potato casserole (baked sweet potato with marshmallows on top – I was told this is a traditional savoury side dish).
Both of these parties were what is known as a "Potluck" here. Before Buzzfeed clarified what that was for me, I thought it sounded like some sort of stressful lucky dip. What it is, is a dinner party where everyone brings a different dish. What it isn't, is a ruthless competition to get the winning plate, where you would only be allowed to eat what you picked with your eyes closed. If you got the potluck, you would be dining on the good stuff – turkey, stuffing, some sort of pie, but if you were potunlucky you would be stuck with bread as your main dish with a side of parsnip. I feel like it is time to shake things up and introduce a new tradition.
So what did we, a handful of culinarily incompetent British people, bring with us? Obviously a collection of Yorkshire puddings. The logic was, if we somehow managed to mess them up no one would know because no one would have even heard of them before. Somehow they turned out delicious, if not a little asymmetrical, and what's more, I know for a fact that at least one person other than us ate them = an overwhelming success.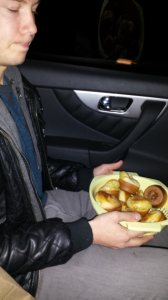 (Alex, flatmate no. 2, with a sieve-full of Yorkshire puds; the national measurement and also we didn't have a spare bowl)
Actual Thanksgiving (the 27th November) was more like a drinksgiving. While Beth (flatmate no.3) spent her day with a surrogate family, the rest of us decided to do something a little special for ourselves at the flat (apparently it is very difficult to find a random family willing to feed three extra mouths). Emma, Alex and I started the day on a diet of crêpes and wine, before later moving onto more wine* and a three-course meal for dinner. Is the "holiday miracle" only reserved for Christmas? Because I feel like the fact that no one got food poisoning was pretty miraculous, especially since I barely remember cooking.
Of course, this was not our first experience of Thanksgiving, oh no. We went to Canada for the weekend in October and accidentally coincided our trip with Canadian Thanksgiving, so pumpkin pie and mashed potato novices we are not. But that is a whole other story…
---
*Put in for literary effect – I did not consume any wine, because that would have been illegal and I am a law-abiding citizen.