Almost all my time during the past few weeks has been delegated to the Volunteer team, where I have helped create and disseminate a Volunteer Satisfaction Survey for Sense volunteers to rate their volunteering experience, as well as note down any improvements they think Sense could make to volunteering opportunities within the organisation. This has meant a lot of monotonous envelope stuffing, but we roped in some extra help from surrounding teams which gave them a short break from working at their computers.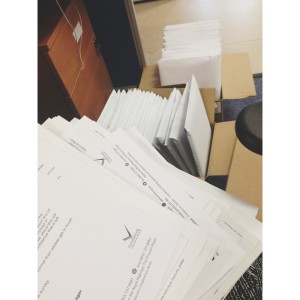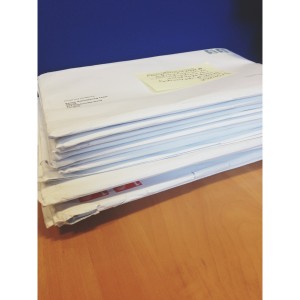 A few quick tips if you are ever given a mailing to send out (which I definitely wish I knew before starting some of the ones I have been tasked with this year!):
Make a coherent list of the places, or people, you are sending the information to. Once each of these has been fulfilled, mark it down as done.
If you are using envelopes with windows, measure the space from the top of the document correctly when inserted into the envelope, and do tests with multiple addresses as you may get longer and shorter ones. This is something I especially wish I had known before printing a mailing to be sent to hundreds of people. Though I had measured the space at the top of the document against the top of the envelope, it didnt dawn on me that when documents are at the bottom of A4 portrait envelopes, they drop down so much you are in fact entirely unable to see the addresses. What followed was a stapling session of packs of envelopes to bump the materials upwards. Oops!
If, like the volunteer mailing above, you are asking for replies make sure you include stamped or freepost envelopes as well as the other documents.
When you receive the replies, jot down a few notes either on the front on the envelopes or on post it notes. Include where the replies are from, and how many are in each envelope. This will be particularly important if later on you need to collate the number of written responses you had.
I was then given the task of inputting the data responses into survey monkey. We received a great response rate, especially considering we sent 15 copies of the survey to 90 Sense shops, to name just one group. Luckily for me, one of my friends from the University of Bath is completing her placement around the corner from the Sense office, and wanted a few days work experience so was on hand to help me with this laborious task!