BASES Student Conference 2016
---
Just before Easter we travelled across the country to Bangor, Wales for this years BASES student conference. This involved two days of talks by leading sports scientists, workshops and short student presentations. This was a great opportunity to learn about what students from other universities had been researching, as well as picking up some tips on Sports Science careers from the pros!
Dr Steve Ingham gave an interesting talk on what the English Institute of Sport (EIS) has been doing to prepare our GB athletes for Rio 2016 and Tokyo 2020. He then led a workshop on self awareness giving some audience members the chance to go on stage and present on any topic of their choice for 1 minute (including Ellie!). He also spoke about the importance of Sports Science students gaining hands on experience before working in the field, and the problem the world of sports science is currently facing with students relying solely on theoretical knowledge taught at universities. This made us feel fortunate to have secured a year long placement at the SHPI where we have already gained a huge amount of invaluable experience.
Keeping ourselves busy...
---
One of the skills we have learnt and been practicing is ECG application. One of our common fitness tests called a Cardiopulmonary Exercise Test (CPET) uses ECGs to look at the electrical activity of the heart during exercise to make sure the heart is functioning as it should. Applying an ECG correctly takes practice so during our quieter periods Roisin and I have been taking the opportunity to put each other through our paces. The middle photo below shows Roisin fitted up with all the kit for a CPET, her results were nothing to write home about so she's off to the gym to get exercising!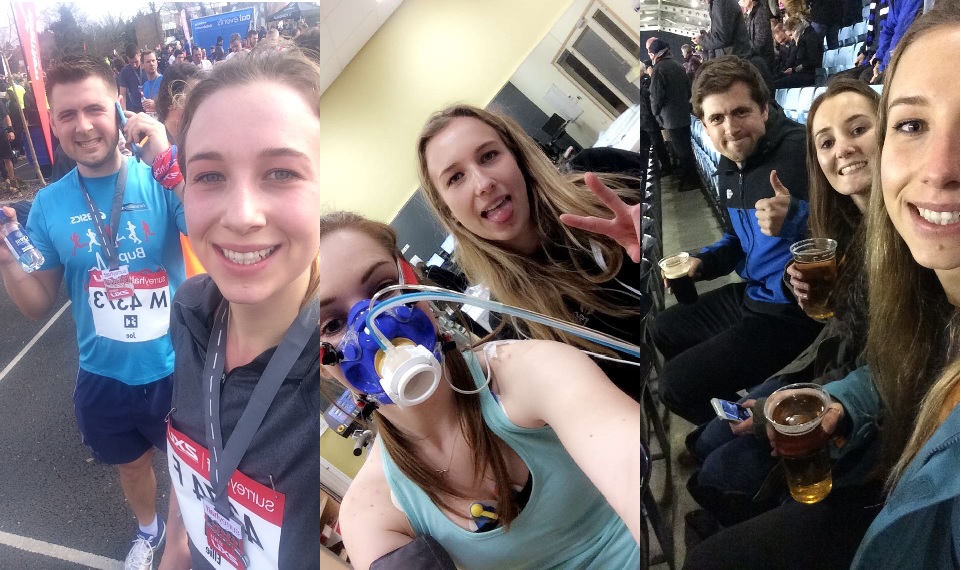 Ellie and Joe decided to sign up to the Surrey Half Marathon in March 3 weeks before the event. Realising that they still had a way to go with their fitness training we decided to put some sport science knowledge into practice to make their few sessions as effective as possible! This included a baseline fitness test to give them heart rate and speed training zones to use, as well as a mixture of high intensity intervals and long runs outside. Luckily the training paid off and they both got round in one piece with Ellie being just 3 minutes behind manager Joe!
Finally after all this work and exercise we found time to go watch the Harlequins play Bath at the Stoop Rugby ground in nearby Twickenham. Roisin and I felt torn on which team to support, being Bath Students but having worked with a few of the Quins team over the last year. We decided to cheer for the Quins who ended up on top winning the game 35-28.