On Tuesday 3 May, the International Mobility team organised its first International Mobility Leavers' Party.
The aim of this event was to give an opportunity to Bath students going abroad in 2016-2017 to meet with incoming exchange students currently studying at Bath who will be in the same cities and countries as them next year.
The party was held at the Roman Baths, a nice setting for students to say their final goodbyes and exchange contact details with their first friends from their year abroad.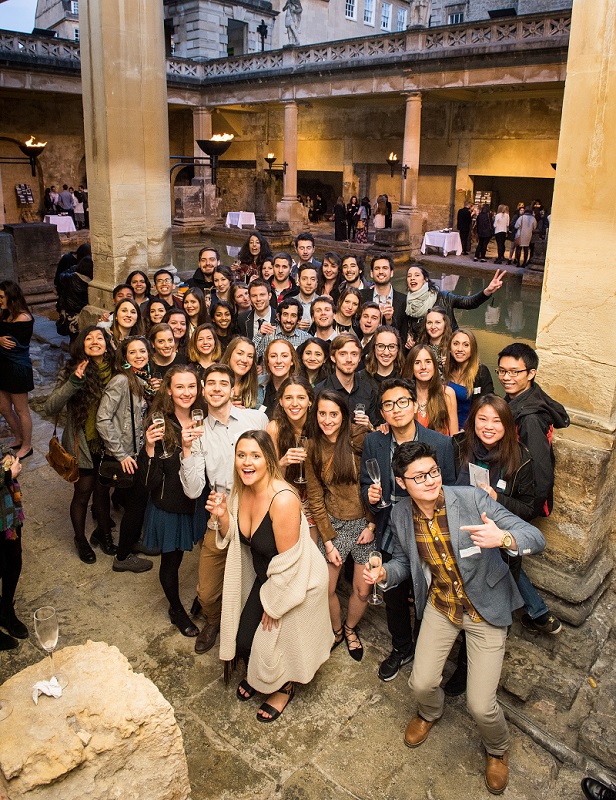 Attendance was very impressive for this first gathering. Around 220 students came, and it was an even mix between incoming and outgoing students!
At the entrance, students were given badges with their name and destination/origin on, and their mission was to find someone who will be in the same city as them next year. The first pairs to show up at the Mobility desk received prizes. Mission accomplished for many of them, as we could witness the new friendships forming throughout the evening!
We were honoured to welcome Lizzie Fane, the Founder of ThirdYearAbroad.com, who opened the event with a wonderful speech about making the most of studying/working abroad, and gave useful tips to our students.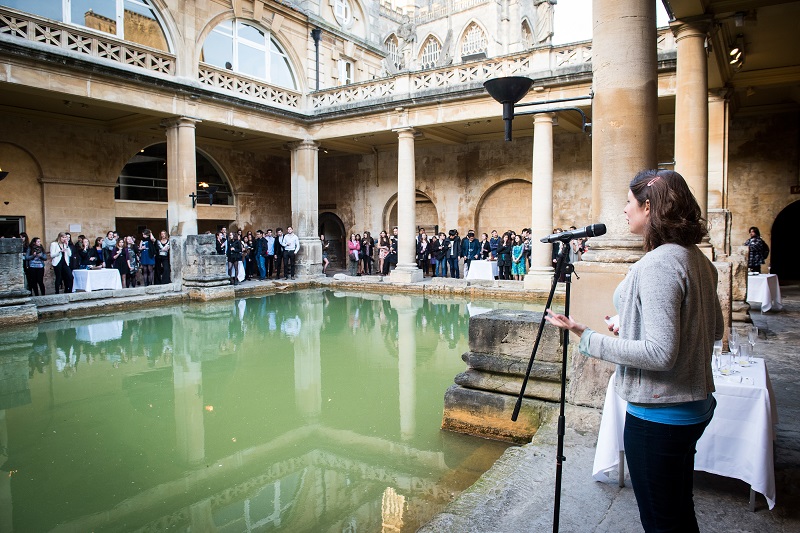 Incoming students were also invited to submit entries to a photo competition. The pictures, around the theme 'What represents your study abroad experience in Bath', were displayed around the Roman Baths during the evening, and attendees were invited to vote for their favourite series of pictures.
Among the 11 photographers, Madeleine Harlow, an incoming Biology student from Dalhousie University in Canada, won the first prize, followed closely by Nicolas Glanzmann (Science without Borders Student from Brazil) and Chloe Lindsay (University of Queensland, Australia)/Liv-Josephine Dahl-Rossau (University of Copenhagen, Denmark), both ex-aequo.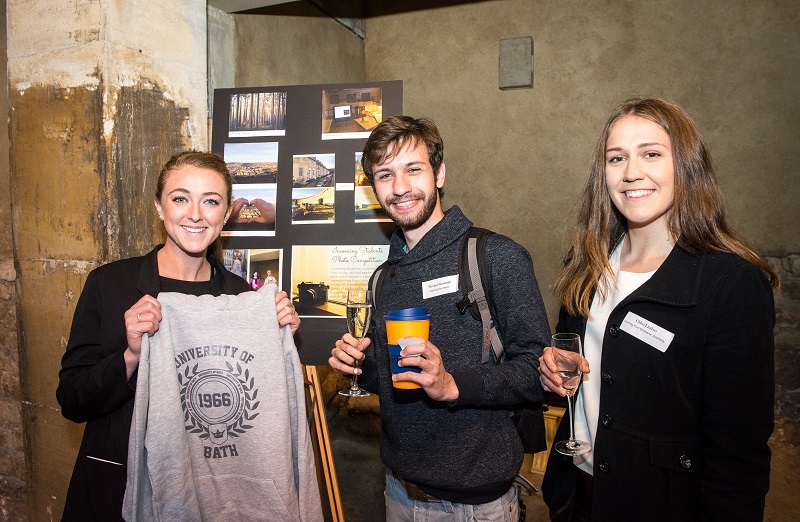 It was such an enjoyable night for all of us, and we hope to make this an annual rendez-vous! Here are a few quotes we gathered from our feedback questionnaires:
"Thank you! It was wonderful! Please do this every year as it's such a great event!"
"I really enjoyed the evening, it was exceptionally well organised and made me excited about the year abroad!"
"I think it is an excellent opportunity to not only network but also to experience the open-mindedness of students who are taking on such amazing opportunities."
Check out more pictures of the event in our gallery.