We are currently on a several-month-long translation and interpreting internship at the EU delegation in Beijing, China, where we are working under the tutelage of Tom Peart, the in-house interpreter at the EU delegation in Beijing, to translate important documents from Chinese into English and English into Chinese for the EU delegation website on a wide variety of subjects ranging from agriculture, economics and trade, technical standards, human rights, politics and education.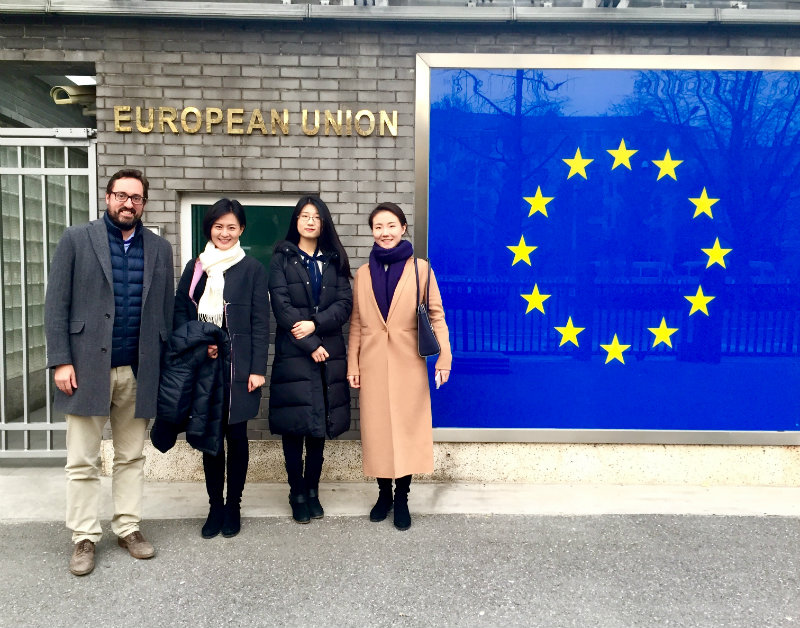 As part of the internship, we have also had the chance to interpret for the EU delegation in meetings on the foreign NGO law in China, for the Finnish ambassador to China on human rights and arts, and most recently for several European companies at the China International Circular Economy Exhibition. One of our first jobs at the EU delegation was to interpret some introductory remarks at the opening ceremony of the EU Film Festival in China in front of a large audience.
These interpreting opportunities are a great way for us to further consolidate our skills, perform in real interpreting situations and put into practice the key note-taking and consecutive interpreting techniques that we learnt on the MA in Interpreting and Translation at Bath. Consecutive interpreting is where the interpreter takes notes and then renders a speech into another language after the speakers have finished speaking. Sometimes this means interpreting a few sentences at a time, but at other times speakers speak for up to six to seven minutes without stopping. That is where our memory skills and ability to take notes well really comes into play. Add to that the pressure of having to face a live audience who are awaiting expectantly for you to deliver the message of the speech in a clear and coherent manner, and consecutive interpreting can be a somewhat stressful experience. Nonetheless, the process of interpreting is also very enjoyable and extremely rewarding. Nothing beats the feeling of having done a really good job in an interpreting situation.
Written translation, whilst often less stressful, can also be tough and demanding. But once again, the hours spent working on important translation assignments can be very rewarding as it is always great to see our translation work posted on the EU delegation website.
For the past three years, this internship has run through an open competition. However, the vast majority of these internship places have been filled by Bath graduates that have completed the MA in Interpreting and Translation. This is a great opportunity for us and we hope that other Bath interpreting and translation graduates will see the value of internships such as these that fill an important gap between the classroom and the workplace.
Yang Yingxi, Liu Bingling and Jin Ge studied MA Interpreting and Translating at the Department of Politics, Languages & International Studies.