In July 2019, I had the privilege of attending the 69th Lindau Nobel Laureate Meeting as the University of Bath representative, and delegate of the UK Royal Society.
The annual Lindau Meetings bring Nobel Laureates and selected young scientists together for a week. Each year there is a theme: chemistry, economics, biology, or in my case last year: physics. There are lectures, plenary sessions, panel discussions, small group lunches with the laureates, open-house forums, science walks, … a dazzling (and exhausting) array of activities, designed to ignite minds and spark conversations.
Although the opportunities to engage with laureates was wonderful, for me, the best part of the meeting was connecting with other young scientists, who shared my zeal for science and science education. During one such informal chat, which extended into the wee hours in one of the many grassy parks of beautiful Lindau, we fell into talking about how the meeting had serious gaps regarding equity, diversity, and inclusion (EDI). For instance, the meeting lacked even an official code of conduct! All of us in that chat stayed in touch after Lindau, and a year later in July 2020, we published a call for the Lindau Council to improve EDI at the Lindau Meetings, called Inclusivity, Diversity, Equity, and Accountability at Lindau. We provided a specific list of actions that Lindau, and indeed other large-scale conferences, should adopt to make their events more accessible to their attendees. We are now working with the Lindau Council to see when and how these changes might be implemented in future meetings.
The 2020 70th Lindau Meeting was held entirely online due to the COVID-19 pandemic. On submitting our IDEA letter to Lindau, I was invited to serve on one of the panel discussions for this year's meeting, on the Lindau Guidelines. These encompass a set of 10 goals aimed at encouraging open science and science communication. Furthermore, as a lot of focus in the Lindau Meetings is on empowering the younger generation of scientists, the Guidelines also speak to the goals of increasing diversity, changing reward systems, and engaging in science education, all subjects close to my heart. So of course I said yes. The panel ended up being an interesting debate – you can watch the entire thing on-line here. We talked about sharing data, establishing research independence, and inclusivity in science. There was further discussion of inclusivity during the Q&A. I came away, as I often do, simultaneously with the feeling of having achieved something by bringing the question of diversity in to a new place, combined with the crushing dread that there is more work to be done than individual advocates like myself are capable of, and that we need more people to step up and carry the mantle.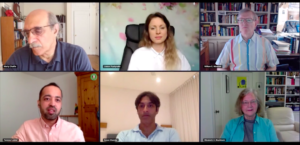 It is well known that a lot of the responsibility to do diversity work falls on members of under-represented minorities (URM) and marginalized groups, like some of us here in Kaleidoscope. We do this because we care, and we want to change things. So much so, that it can come at the expense of career progression, because, generally speaking (certainly from my perspective within academia) this sort of work is not valued highly enough. This is a well-known phenomenon, and it even has a name. It is called cultural taxation, or the diversity tax, a name that was first proposed by Educational Researcher Amado Padilla in 1994 (the original article is very readable). It is the phenomenon by virtue of which those who identify with a URM are more likely to be called on to serve on committees / panels / task forces etc, for instance, as the token woman, or Black and Minority Ethnic [BAME] "representative". They are more likely to be invested in these efforts. And they are more likely to get left behind as their more privileged colleagues use that time and energy for career advancement. 
People who work at universities, and this includes everyone from managers and deans to vice chancellors, have to keep this in mind; and indeed, this spans not only universities or even just Education, but across sectors in the economy. We have to find ways to reward diversity work. For instance by including it in our workload models, in hiring and promotion decisions, and in selections for prizes and awards. But most importantly, if we agree that a diverse workforce is important (and the science is clear on that – yes!; and also, treating everyone justly is simply the humane thing to do), then we also have to do some of the work ourselves. All of us. We must share the responsibility of undertaking diversity work. And that means working together to support, encourage, sustain, reward diversity conversations and, critically, to take concrete actions.
What are some things we can do?
Two years ago, along with a team of immensely dedicated physicists, I worked on the second edition of a Best practices guide for LGBT+ inclusivity in STEM. All 85 pages of our recommendations are available online. We have a handy indexing system, and a collection of resources at the end. We can start by implementing these recommendations at all levels of education. There are even some on planning inclusive conferences.
What else can we do?
If there is something that the murder of George Floyd and the resultant global racial unrest has taught us, it is that we all have positions of privilege. Whether that is white privilege, male privilege, cis privilege, heterosexual privilege, or simply the privilege of having an educated mind, a stable job, and a roof over our heads. We can use that position of privilege to amplify voices of minorities in STEM. We can scrutinize and question practices at our institutions, and work to bring about systemic change. We can establish incentives for talented people to work in higher education. We can do our part to help create and sustain role models. We can provide these role models with the resources they need to build communities.
How? I think we need to think on that for ourselves. The time is past to keep turning to diversity advocates for advice. We need to emerge, embrace, and engage.
And when this comes full circle, when no voice is left behind, when we have built communities that are tight-knit and self-reliant, it is then, and only then, that we should expect the checks and balances of science to adequately function within society. For the Lindau Guidelines to be realized. And for diversity to truly reflect within a just society.