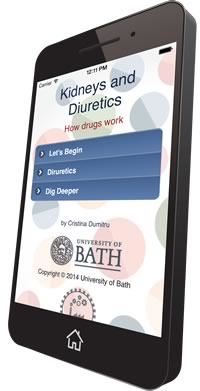 Cristina Dumitru is an exceptional student. She has won various awards during her 4 years as an undergraduate, culminating in the university's top student prize 'the Chancellor's Award' in July 2014 (details here). She also achieved a first-class MPharm degree in July 2014.
A few months ago, I asked Cristina to develop an app.  The aim was to target students studying Kidneys and Diuretics, an area that my colleague Dr Sergey Smirnov had identified as somewhat challenging for undergraduates. One of the key aims was to produce animations that explain the mechanisms involved.
Although both myself and Sergey have provided some feedback and guidance, everything in this app has been created by Cristina, right down to the logo.  The app has a professional feel, and it will be available to staff and students in the near future from the 'App Centre' - something that I will cover in a future post. For now, I am just happy that it is finished, and that the idea of student-authored apps is viable. I'm looking forward to our students doing a whole load more of these!
The other reason for some satisfaction is that it turns out that Cristina really, really enjoyed developing digital media: The creative skills involved in authoring video and graphics is both a contrast and a complement to the skills she gained during her degree course. In the future, I hope that more students will have the opportunities to gain the extra-curricular skills that are needed in the competitive jobs market.
Here is the app description from Cristina:
This educational package is aimed at students and also non-professionals to increase their knowledge and understanding of the basic physiology and pharmacology of the renal system.  The mechanisms of action of loop diuretics, thiazides and potassium-sparing diuretics are discussed in short narrated animated videos that make it easy to understand the difference between the mode of action of each class of drugs.
In this app you will find:
Narrated animated video explaining the basic structure and function of the kidneys;
Narrated animated videos explaining the mechanisms of action of loop diuretics, thiazides and potassium-sparing diuretics;
Additional written content relating to the functioning of the kidneys and the pharmacokinetic properties and clinical uses of diuretics drugs.
Written explanation and animated video about the functioning of the ATPase, a common transporter essential for the action of diuretics;
Multiple choice quizzes to aid your understanding of the principles covered.
This is Cristina, in her own words, describing the experience of developing the app:
Part of becoming a pharmacist represents mastering the ability to communicate with patients clearly and to offer them advice about medicines without the use of technical jargon. I think that the ability to take complex terminology and weave it into an engaging narrative is an integral part of a career as a healthcare professional or as a scientist.

Throughout my academic studies I found that I've always been more drawn into subjects that used dynamic ways of interacting with students. So slowly I became interested in exploring alternative mediums to deliver a scientific message: visual graphics and short film animations. An animated video is certainly the most vivid way of communicating a complex scientific concept. Animated videos are much more than just enriching the text; they are highly effective means of presenting the information in a way that everyone can understand it. Working with Keith on creating mobile applications has given me access to the tools and software that I needed in order to explore my interest for science communication. It has been greatly rewarding to use my experience and knowledge of the Bath MPharm in designing educational materials for other students. I hope these will be beneficial for students and help them learn more effectively. I have also gained immensity by developing skills in organising and planning learning activities and I hope to continue to be involved in designing educational materials as a future pharmacist.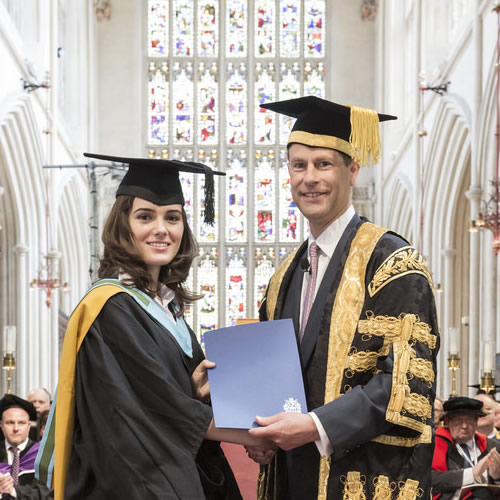 Here are some images from the app: