Another student app. I wasn't expecting to release this one until September but the questions were already done, so I changed my mind. I also wanted to see how long it would take me to make native apps for both iOS and Android using my prototype App Factory.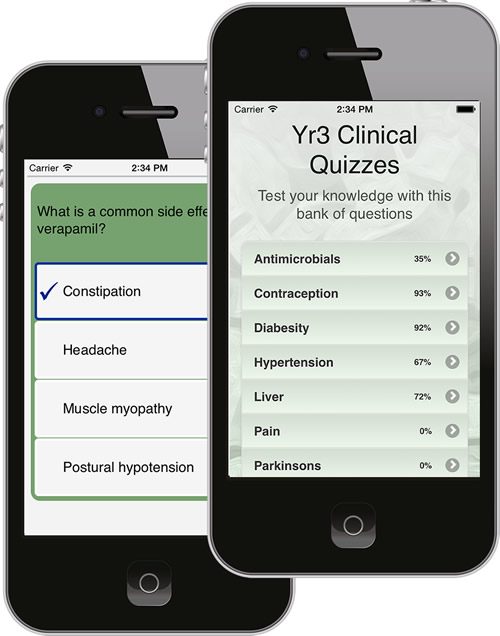 This is a different kind of beast to previous apps and comprises of a collection of quizzes - a Quizbank.  The package is intended as a revision aid for clinical pharmacy undergraduates in the third year of our MPharm degree. Many thanks to Stephanie Shale, a recent graduate who authored the bank of questions. Once again, the overall intention is to exploit the existing knowledge of a student  to produce a learning aid that will benefit other students.
The App Creation Process
It had taken Steph quite a few hours to devise the questions in an MCQ type format. In total there are about 130 questions spread across 9 quizzes. The quizzes had been entered into our VLE and available in an xml format. So basically I started off with 9 xml files, and started the timer:
As it turned out, the app creation process was fairly quick.  It took me about an hour and a half to create the apps for iOS and Android, and comprised the following steps:
Drag-and-dropping the xml files to the prototype 'App-Factory' web-site
Choosing a colour scheme for the app
Selecting a background image and icon from stock photos, adjusting these to suit the colour scheme
Clicking on the 'Make App' button on the App-Factory to create the source files
Copying the source files to my Mac and compiling for iOS and Android to produce the native apps
Uploading these to the distribution site for the university
In the future, I am hoping to make the process even quicker by automatically provisioning the apps to the distribution site, following the click on the 'Make App' button. This will eliminate steps 5 and 6. However, this is a work in progress and not likely to finished for a few more months. But when it is, the App-Factory will be unleashed on staff and students to see what happens! I'm looking forward to that.