Yesterday I created an app for prospective students using the App-Factory. It uses exactly the same powerpoint and video materials from an app that I manually-coded in 2013. The main difference is that this time it took ten minutes to create the app and about ten minutes to provision it in the App-Centre.  The process is getting more-and-more automated, and quicker-and-quicker. Compare this to several hours that I spent last year to achieve the same thing.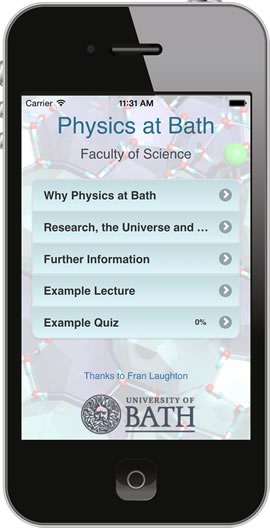 The app is a preview available internally at the University of Bath, and has been provided as a reference for the 'App Awards' competition that I will be running in a couple of weeks, where students will have the opportunity to submit materials for inclusion in apps designed to appeal to 6th Formers. Eventually, the apps will be made available in the public app stores, so it was important to include appropriate branding and visual identity. In this case, it is for the Physics department which is represented by the dark blue areas at the top and right of the screens, as shown below.
The plan is that the finished apps will be evaluated in local colleges in collaboration with the Widening Participation Office.