I'm pleased to announce another Peer-Assisted Learning app for Pharmacy and Pharmacology undergraduates...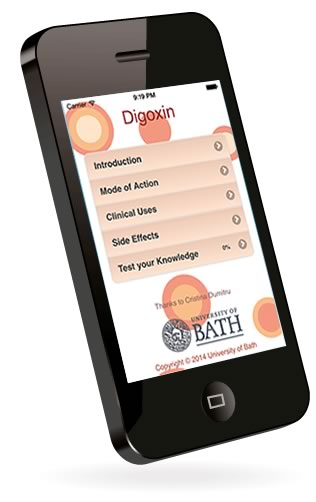 This is a small app about the drug Digoxin, which is covered in the second year programme unit 'PA20016 : Cardiovascular, Renal and PNS Pharmacology'. It is now available to students to install on their Android and iOS devices. Although we are mainly aiming for students to use this as a native app, a web-app (a mobile web-site) is also available if required.
It is yet another triumph for recent alumni Cristina Dumitru who created most of the material shortly after graduation in the summer. Although Cristina is now in her pre-registration year, somehow she managed to find the time to finish this over the last few months. Thank-you Cristina! The first app for Alumni-Assisted Learning perhaps?
The material includes an animation, slide-shows and a quiz, and was created using the App-Factory.
A big thanks to Dr Sergey Smirnov for feedback and assistance with the app.