Student Evaluation of 4 Peer Assisted Learning Apps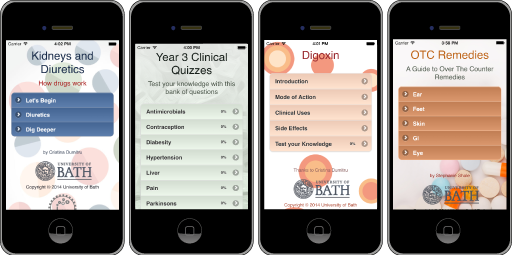 The evaluation results for four Peer-Assisted Learning (PAL) apps have now been collected. Undergraduates in my department were able to download and install the apps on their Android and iOS devices from October onwards, and many have used the apps for revision prior to their January exams.
These apps were created by two final year students after graduation in 2014, and tackle specific areas in the syllabus that had been identified as difficult for students. These really are apps by students for students.
For me, the evaluation results are overwhelmingly positive and indicate that apps seem to strike a chord with students in a big way. It was beyond my expectations:
Taking an overview of the student surveys across all 4 PAL apps, there is a broad consistency:
90% want to use their phones or tablets for teaching and learning
Almost 100% find the PAL app(s) useful
Almost 100% find the PAL app(s) easy-to-use
The PAL apps were predominantly used for Private Study or Revision
The free text student responses are shown below. These are in response to the question 'Please write any feedback you have about the app'.
Obviously there are one or two issues related to quality-control that we need to check and rectify, but overall this is really positive outcome.  Given this data-set, all I can say, is that apps for teaching and learning do seem to have a lot of untapped potential!
Individual Student Responses
Kidney and Diuretics App
Brilliant app, good lectures and videos, quizzes brilliant to bring g all the learning together, brilliant app for the unit!
Very easy to use
Was very good but I think there was a mistake with one of the questions
It's perfect
It's really good and should be used for other units as well
Good to see the notes written differently to the lecture notes
Very concise and easy to read through the topics - quiz was also a useful aspect!
It was so simple to use, nicely divided into appropriate sections, with clear diagrams and speaking. It was good to have the video at the end as well, and I felt it progressed at a good speed. On the loop diuretics quiz, the 'Loop diuretics act by inhibiting the:' answer does not match the information given previously nor does the 'The overall effect of potassium-sparing diuretics leads to:' answer on the potassium-sparing drugs quiz. I used the web app.
Very easy to use
Simple and easy to use. Used most on journeys when laptops are just too big.
Quite interactive, good how there are quizzes to do as well.
would like more interactive activities and more exam style questions
More quiz questions and more challenges. Create different levels like a game to make it more interesting.
I like the animations and the quizzes. Could be improved by including more academic content.
There is a problem with an answer in the loop-diuretic quiz. Loop diuretics act by inhibiting the luminal Na+/K+/2Cl-cotransporter, yet the answer given is different. (Q7) Otherwise, great app!
 I liked how the topic was broken down into appropriate subsections and how clear and concise the information was. Being a visual learner, I found that the video and animations really enhanced my understanding of the topic.
Good content, forced to answer quiz in 1 go, randomise question order, app fits the full window of phone
I like how it is clear and easy to use, and supplements lecture notes when doing revision. Easily accessed at home
I like that it has lots of animation, it enables you to visualise things easier.
Nice and colourful. Sometimes in the slides, the back button in the top right hand corner covers some content which can be annoying.
i felt the quizzes was too easy or maybe that's just me Q7 I think is wrong on the loop diuretics quiz I believe it acts on luminal na/k/2cl cotransporters
Clinical Quiz App
Really good app especially as a revision aid
The app covers a lot of topics, and the questions are very reasonable. Nice layout and colours too.
really really good, like the quizzes, very useful for revision, might have been nice if all the right answers had an explanation about why it was right, but not completely necessary, also nice design and easy to use
I like that you can also do the quizzes on the computer. They are much better than normal Moodle quizzes because they are faster and don't have loading times. The feedback underneath the question is also useful.
Very good, quick quizzes
I think the App is really really good, and it's such a good opportunity to test your knowledge when you have a spare few minutes - wherever you are! The only way to improve it would be to add more questions,
Really like the app, lots of topics and questions.
I like that all of the topics covered in the PA30243 module are in the app and separated out in an easy to find format. The quizzes are hard but that is good as it pushes you to learn more around your topic.
I like the app but there could be more questions similar to the actual exam, and maybe a few clinical cases to study
Really useful practice for the exam
Really helpful app especially for revision. Would be useful to have more explanations under the options once you have chosen your answer.
The questions can focus less on number memorizing stuff, for eg what is the normal range of albumin. Instead more questions can be asked on the application of clinical knowledge
Digoxin App
Good content which is easily displayed and useful for revision
Easy to use and very good for revision
Very good
It wad very easy to follow and topic was easier rob understand
Good to consolidate facts learnt from the lectures
I enjoyed using the web app on my laptop. It split up the topic well and there was a good use of diagrams and videos. I think it would be good to include the reason why an increased calcium concentration is beneficial in the video or prior to it.
Easy to use and work through the different sections. On phones the screen size isn't great, only small when phone held vertical and then if turned on side the app doesn't fit the screen properly - could be something to adjust
Very easy to use, very clear information given
Good to use to sum up the different lectures in which digoxin is associated with.
It's just great that there if all the information needed without the hassle of opening Web pages, logging in etc.
Animations are excellent. Could be improved by adding more quizzes to test your knowledge.
Fit phone video, randomise question order
I like the extra detail which enhances understanding of the drugs which helps with revision.
I like the animation
OTC Remedies App
I really liked this app and was really easy to use. good revision aid
Simple to use and helps test my knowledge. The layout and colours are nice too.
the design wasn't as neat as it could have been , didn't work particularly well on phone screen, but overall not a massive problem. they were very good for RTS exam revision, particularly for journeys or times when it's not possible to have notes with you.
Questions are too easy
More questions please, very helpful!
I think the app has been really useful as I could use it as a boost to my revision before the test and I learnt things from it that I hadn't previously known about.
The app is good but I dislike the layout of the teaching note - they are in an unnecessary presentation format. However the questions are quite useful. Maybe a few more topics could be included?
The back button in the top left corner covers some of the writing in the quizzes. Not really necessary for the info parts to be videos but would make more sense just to read the text. But very useful revision too
Response Rates
Finally, the response rates for each survey:
Kidney and Diuretics App - 23%
34 students out of a total of 151
Clinical Quiz App - 15%
18 students out of a total of 117
Digoxin App - 14%
21 students out of a total of 151
OTC Remedies App - 16 %
19 students out of a total of 117