A new app has been completed for iOS and Android smartphones and tablets. Created by recent alumni Adam Norman, the target users are students in every year of the pharmacy degree course. It aims to to provide comprehensive information about getting the most out of practice-based learning in the degree and work experience, in order to help the student successfully apply for (and complete) the pre-registration year.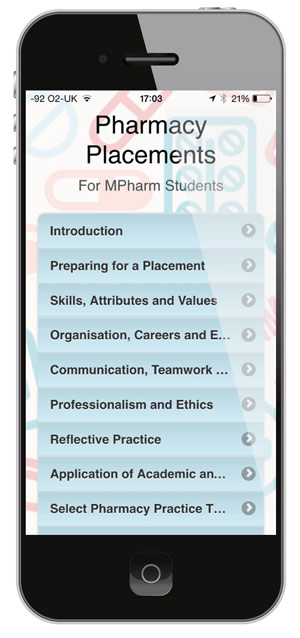 The app is the first output from the App-Factory Alumni Fund project, and incorporates slideshows, videos and quizzes. It covers topics such as:
Preparing for a placement
Personal skills, attributes and values
Communication, teamwork and leadership
Professionalism and ethics
The app is currently undergoing quality checks by academics, and initial feedback is very positive. My colleague Julie Letchford commented that 'there's loads of detail here which will be very useful to students going on any placement in pharmacy or indeed any subject area'
It is hoped to release the app in the near future, and to evaluate with students from each year group of the MPharm degreee.