Study-Space is a small-scale experimental social-media type app, implemented as a forum, but with a few extra features.
Based on previous experience with Facebook groups and the input and encouragement from students, an app was implemented for iOS and Android.
An over-riding issue for students was convenience:
'if you make it easy enough, then we will use it'
The internal nature of the app alleviates some issues privacy that have caused some concern amongst students in previous studies using mainstream public social media. [1]
In a nutshell, the work is an experiment to determine if a homegrown app could be a viable platform to support a closed community of students helping each other. The closed context provides a secure area for users to experiment in the course of their learning, and does not directly impact on an individual's public or mainstream online identity.
The trial
The pilot ran mid-February to mid-May 2016 with a cohort of around 140 pharmacy students.
Some of the key features of the app include:
Private – only available to a small cohort of 140 students
Focussed - one programme unit
Anonymity – most students have chosen to post anonymously
Quick and convenient – it is available as an iOS or android app, or a web-site
Simple – a forum of text posts combined with some special types of posts for academics:
Voting competitions
Questions/Surveys in MCQ format
What happened
Although the app is an optional supplement to the unit, is has been used by around 60% of the cohort. There has been a good level of activity, mostly based around various questions and answers posted by students such as shown below: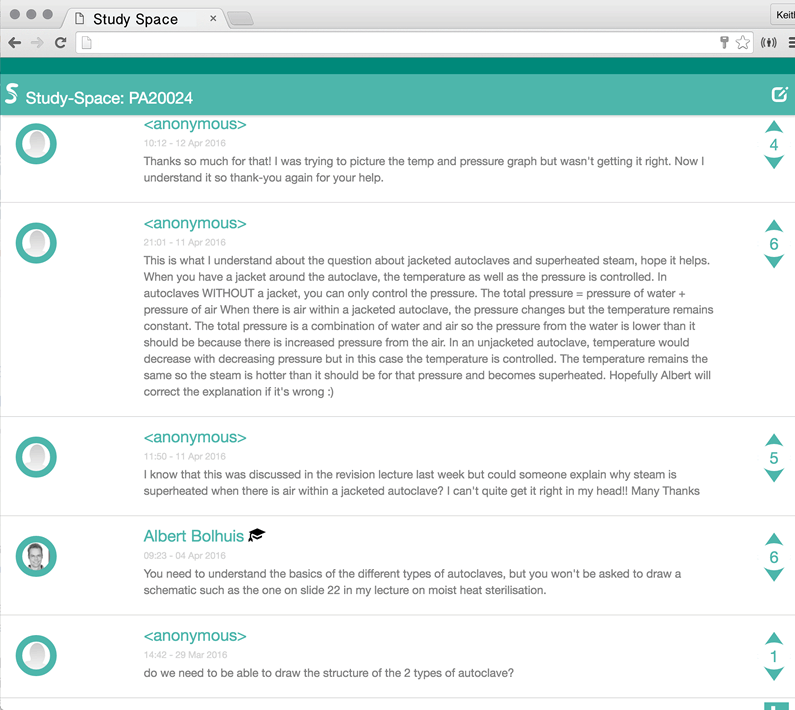 We have yet to properly evaluate the app because the students are revising and taking exams right now. However, the feedback so far:
The Academic View
Dr Albert Bolhuis
As convenor for PA20024, the Study-Space app has provided a convenient way to engage with students outside of lectures, and enables staff to monitor how well students have understood the material that was taught. The app is easy to use and the workload is minimal. Importantly, students are not only asking, but also answering questions that have been posted, and the app thus facilitates a lively peer support community for the unit.
Dr Julie Letchford
As an academic delivering lectures, practicals and workshops on this unit, I'm always keen to obtain student feedback. The voting element built into this App provides a really useful way of easily achieving this immediately after the session.
The Students View
Student comments from the end of unit evaluation include:
Feedback via StudySpace has been very useful.

The app was a great idea for getting feedback to us.

I think the app has been a very good improvement to this unit and the lecturers are always there to answer questions as well as us

I think the idea of the Study Space app is good!

... and the app has been very useful as people can ask questions and get replies extremely quickly

The studyspace app which was trialed during this unit is really useful and I feel it would benefit being used in other units too

Study Space App is really helpful; I hope it can be rolled out in other units (it would have been of even more use in 242/Drug Met perhaps?)
Future Development
Based on the evidence so far and interest from academics, it now seems likely that further trials will take place across the university in the next semester. In particular, one area for exploration that hasn't been tried yet is synchronous use during lectures.
Please let me know if you are interested
References:
The role of social media in undergraduate pharmacy education
Alyson Brown @alyjbrown and Brian Addison @BrianAddison75 –
Robert Gordon University
Social Media for Learning in Higher Education Conference 2015