This is a guest blog by my colleague Ellie Jones. It is a summary of a small focus group that explored options for the implementation of a social media hub for students in our department. The Visitor/Resident mapping worked well and we are now aiming to implement a digital skills audit with much larger student groups at the start of the academic year.
Social Media Focus Group
by Ellie Jones
Wednesday 1st June 2016
In Attendance: Ellie Jones (Department Administrative Assistant), Keith Brown (Learning Technologist), Meghan Doran-Rowe (Marketing Assistant), Lucy Bennett (First Year Pharmacy Student), Jack Symonds (Second Year Pharmacy Student)
Results from Grid Exercise:
To gauge usage of social media, we used the Visitor/Resident (VR) cross grid: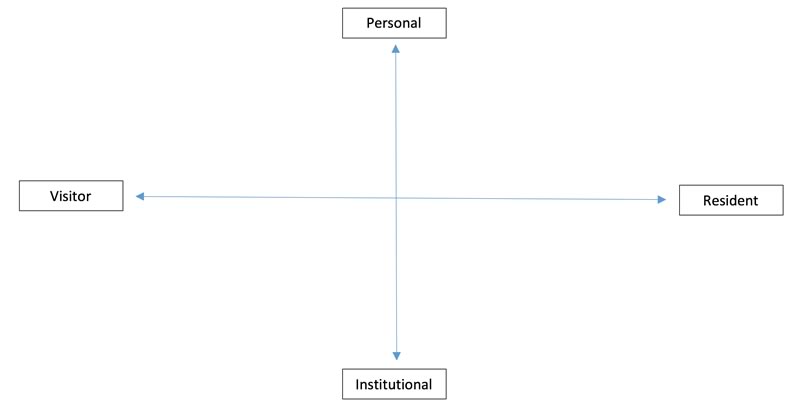 The students were asked to map out the social media sites and apps they used on the grid, deciding whether they were a resident (a regular user who actively makes use of the site and interacts with the content) or a visitor (someone who visits the site infrequently and simply reads the content without any further interaction). They also had to consider whether their usage was personal or institutional (only used for work or educational purposes).  For further info on VR please see http://daveowhite.com/vandr/
Each student completed one grid for themselves as well as a grid which they filled out with their theoretical opinion of their year group (not shown).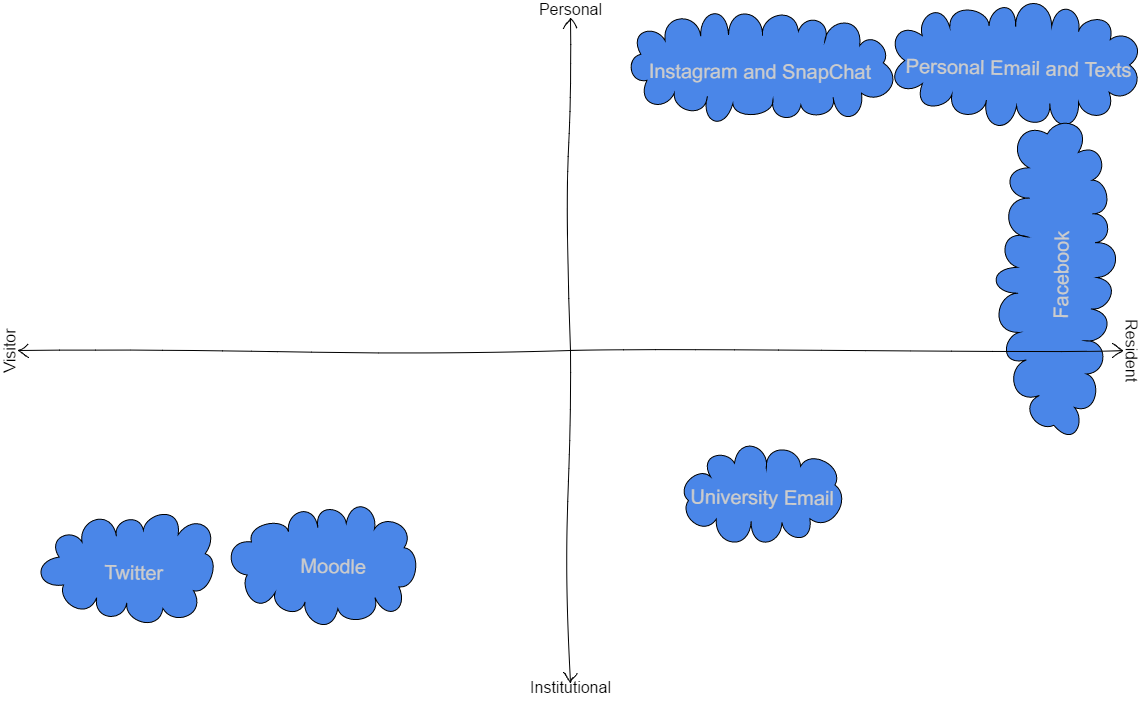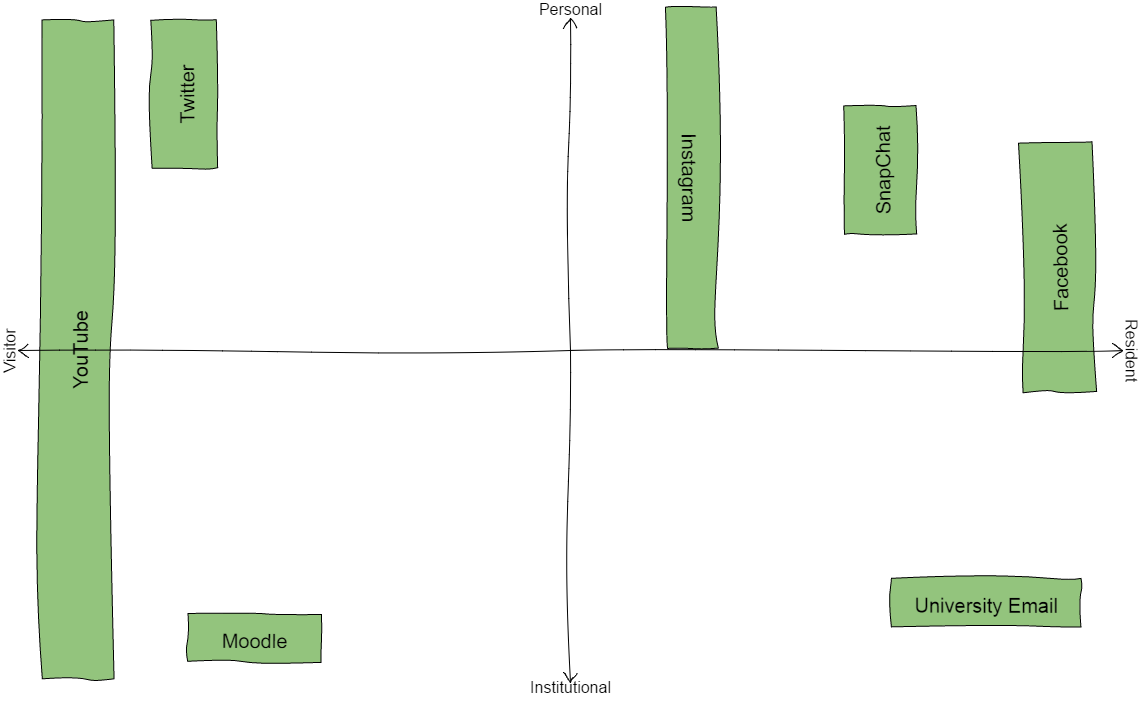 The findings were as follows:
Moodle was very much a visitor/institutional site. Although the students described this as 'Read-Only', there was a desire for more opportunities to contribute
Where Moodle has been used in a way to promote residency, the students had enjoyed the experience and found it to be useful
The students acknowledged that for Moodle to be useful, academics must monitor and provide feedback to any forum/discussion; this was due to uncertainty amongst the students and reliance upon academics for accurate information
Picture-based updates were suggested as preferable to a lot of text by both students
Whilst picture-based social media apps such as Instagram and SnapChat were described as more for personal use, the students agreed that of the two Instagram was better suited to institutional usage
The students felt that Facebook was the most widely used; this was the case both in terms of frequency of usage and engagement
The students felt that Facebook could easily be adapted from personal to institutional use and had already set up groups for institutional use.
Results from Questioning:
Though many questions were answered through the Grid Exercise, students were also questioned for further information in a few areas.
The results were as follows:
On average, both students believed they checked social media sites about 12 times a day though admitted that at certain peak times of the year their usage increased to a number much greater than this
On the whole social media sites were used by the students for personal matters such as keeping in contact with friends; though one said they used it for 'everything'
YouTube is a growing medium of obtaining information amongst both students as they can make use of educational videos during their revision periods
They both felt 'disconnected' to both the University and the Department in terms of social media and expressed a desire to become more connected; they would specifically like to obtain a greater understanding of the research done by lecturers and PhD students. There was a desire to find out 'What lecturers actually do'.
Whilst they both expressed that they would not be interested in a Twitter feed for their year group or department, they said they would definitely make use of a Facebook page as long as reliable, verified information was there (NB: This interestingly notes with their comments on Moodle; if the students believe information to be trustworthy and accurate, residency becomes much more likely)
With regards their digital identity, neither of the students felt that their social media usage would impact upon their job prospects negatively as they agreed that they are now 'much more aware of what [they] post' due to increased public awareness of privacy settings etc.
They both however felt that social media usage could impact positively on their job prospects if they used it sensibly and innovatively, referring to how they would evidence this in a job interview.
Going forward
The results of this focus group indicate that Facebook is likely to represent the way forward for providing a student hub.
This is reinforced by evidence that indicates Facebook has achieved more penetration than other social networks: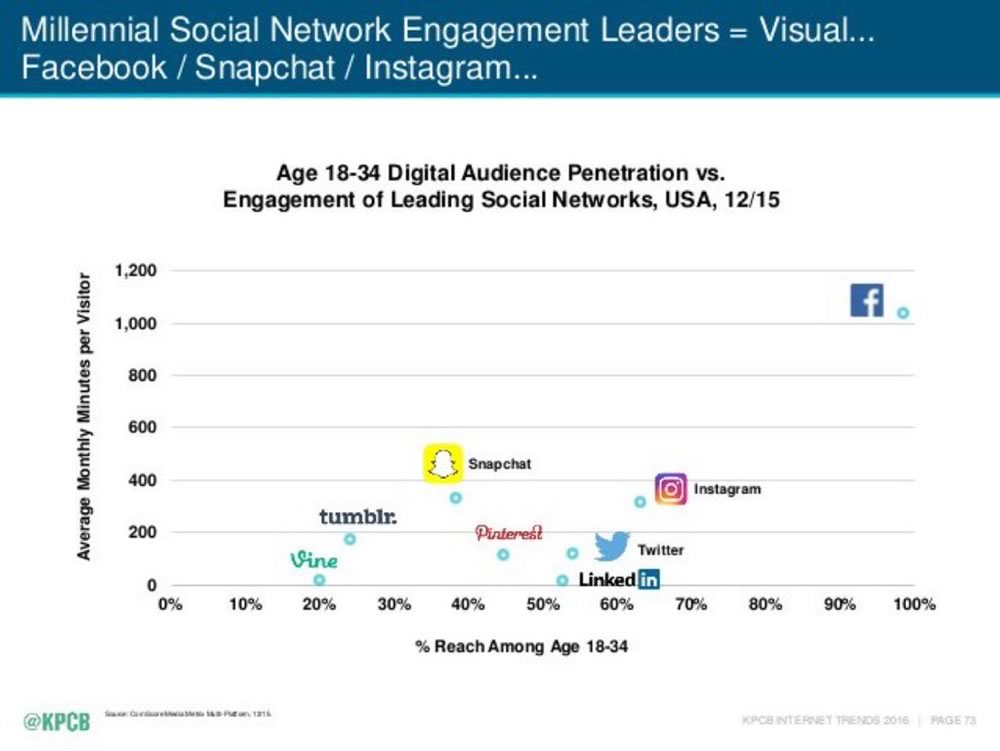 The preliminary plan is to set up a Departmental Facebook page which the students have agreed to aid the launch of. These will be linked to the groups for each year that are currently being run by students independently.
The main idea is to provide an inclusive and reliable information source for:
Departmental updates
Events
Reminders
Departmental news stories
Highlights from both teaching and research
Room changes
Information on option choices