Credit for this project belongs to Dr Hannah Family in the Department of Pharmacy and Pharmacology, and Dr Wali Aslam from Department of Politics Languages & International Studies. 
It is a simple but effective use of technology for teaching and learning. 
Using Skype to 'Bring In' an Expert Patient to the Classroom
A recent project involved a class around 70 fourth year pharmacy students connected to a remote expert patient using videoconferencing facilities: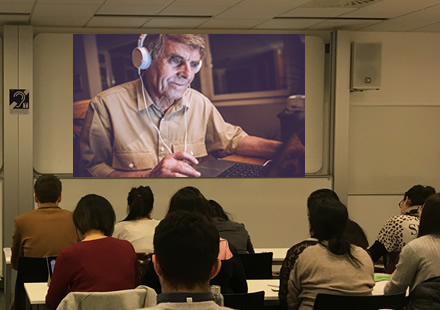 In previous years the patient has attended in-person as a guest speaker for the class.
The Academic Viewpoint
Dr Hannah Family:
I've never used Skype in a session before – so I was unsure what to expect. I invited a guest speaker, who is an "expert patient" – who has previously joined my classes in person to talk about his experiences of being diagnosed with, and living with a long-term  health condition. Skype presented many benefits, firstly this speaker does not live that locally to the university so it meant they avoided a long journey to visit us for a brief lecture. Secondly, it meant he didn't have to venture out in the cold, which is one of the triggers for his symptoms (of chronic asthma) amongst other conditions.
Although I could see all the benefits that Skype could bring, I was worried that we might lose some of the impact of the session because our guest speaker wasn't physically present. However, I was keen to explore how it could work, as I knew this would help me to invite more patients into the classroom in the future.
I didn't need to worry – the whole thing ran smoothly, and our guest speaker was just as confident and as engaging via Skype as when he had physically been in the classroom. We had just as many questions and the class ran as it had in previous years. Things that both I and the speaker felt, was he had less of a sense of how the class were interacting or reacting to what he said. This didn't impair the class experience and we both felt that we could see how this could improve patient input into our classes in the future. What it did mean was that I could then bring  him in another day to work in smaller groups with the students – without taking up too much of his time.
Now that we have trialled it, we may also be more adventurous and try and work with pharmacists in different countries, or even patients from different countries to see how care of the same illness varies with culture and country!
The Expert Patient Viewpoint
The Skype conversation was a new experience for me and I can certainly recommend it for other speakers.  It mightn't be to everyone's liking if you like to get out of the house!
Advantages:
You are in the comfort of your own home/workspace and don't have to travel which saves on petrol etc.
You don't have to get up early if it's an early morning session.
You can keep warm.
You can schedule other things for your day around your home/business ie if you have something to do in town just after you finish on Skype, you can do it without worrying about time constraints.
Disadvantages:
You aren't aware of audience mood or response as much as you would be if you were in the same room.
External noise such as phone ringing or knocking on door.
You don't see people smile when you crack a joke!
The Student Viewpoint
The following are blogs by students:
Huda Mirza:
Jenny Yuen:
The project is part of a larger project funded by the Teaching Development Fund at the University of Bath which is lead by Dr. Wali Aslam:
https://pharm.bath.ac.uk/moodle/dna.png