A guest blog by our student Azhar Jamal who previously worked for me on some app projects. He entered the Jisc Student Ideas Competition 2016 and has now secured funding to commercialise his own app idea 'Stuiz'.  I wish him every success.  Here he shares his story.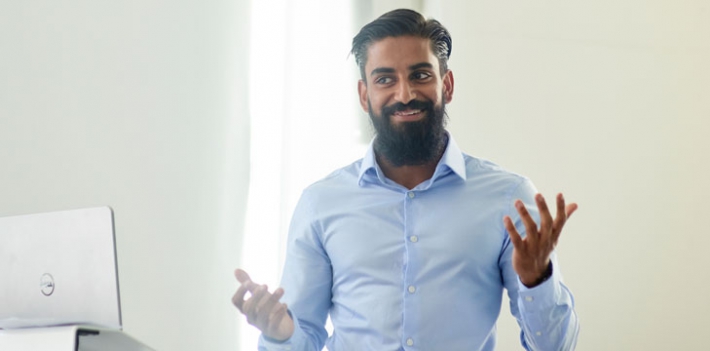 Azhar pitching Stuiz at Summer of Student Innovation pitch day 2016 ©Jisc and Matt Lincoln CC BY-NC-ND
Stuiz
by Azhar Jamal
The 'Summer of Student Innovation' is a competition held by Jisc. It is open to all students in higher education and a competition entry has to consist of an idea, description and a video. The idea itself just has to be something techy that improves the student experience – that's what Jisc's about.
The Idea
My introduction came from Keith Brown – he's really tuned in to this sort of thing (I worked for him on an app called StudySpace). He mentioned the competition in a conversation and told me to come up with an idea and to go for it. Most Sunday evenings I had friends over for a quiz. After a while I made an app that worked as a buzzer, changing the color of the lights to the color of the team who buzzed. Stuiz came from this – we loved quizzes and we were competitive.
The Entry
When I'm motivated toward a goal, there's not much that can stop me. In this case the goal was a kick ass video.
When looking at the past entries, I noticed all of the videos were just someone talking to their webcam and I got bored fairly quickly. Camp Rock taught me "Don't fit in, stand out", I knew then I wasn't going to make something like that. At the time, movies like Civil War and Batman Vs Superman had trailers out so I took inspiration from them and decided to do something that had that dark, boomy, teaser trailer feel. After firming up the idea, I started thinking about the storyboard of the video and the characters.
Unfortunately, this was smack bang in the middle of revision season so everyone felt super guilty about doing anything other than work so there was a lot of meticulous planning about where everyone had to be at what time. Luckily, I'm blessed with lovely friends; Will, Liv, Lawrence and Connie were lovely to work with as well as Georgia who lent me her camera and helped with filming. With them and the planning, we got everything for the trailer filmed in a few hours.
The closest thing id done to video editing was short animations in after effects. Once I started in Premiere Pro, I got very into it. I stuck to my storyboard pretty closely as I had a good idea of what it was going to look like – I feel due to the amount of time spent just thinking and imagining beforehand, the actual editing was a lot faster (even though it did take a while). The actual editing was nothing more than; placing shots, trimming, color grading and a little bit of adding text animations via after effects. Georgia's advice on how to shoot (as well as her camera) aided the video in looking as good as it did.
After I created the video, I had to deal with the sound. I knew which sounds I wanted when but I didn't have the time to download a new program and learn how to make a soundtrack – so I spoke to a friend, Beth Hall, who is a great musician and was studying Music Tech. I sent her the video and told her what sounds I knew I wanted, outside that she had creative reign and did a great job.
The part after the trailer I thought was necessary as I thought more people would prefer watch a video explaining the idea rather than reading it. This took a lot longer than you'd think as I kept messing up / it got dark / someone was mowing the lawn / my hair was dodgy. After a while I decided I was being too picky and got it done on two takes, in the final video I cut between these two depending on which sounded better at a specific time.
The Marketing
I knew this wasn't going to be easy. I decided to go for a staggered release, this way it would motivate the people I asked to ask friends and would have given me a good idea of how many votes I needed. The first people I told were my family, who by themselves got a ton of votes. Soon after this I told the friends I lived with and then friends from different groups (some from my course, some from back home etc). The real jump came from emails, of which first went round to physics students then to other students at the university. By end of the voting period I had 477 votes, the highest. I went on to be selected for the next stage.
The Design Sprint
"Describe Stuiz in 2 minutes… aaaand go!"
Those were the firsts words spoken to me after meeting my mentors, Holly and Nadine. They were lovely and in a somewhat prophetic nature, they won the competition the year before with SALT
The Design Sprint  took place over 4 days at Aston University in Birmingham. The most helpful activities for me were; developing the idea, considering the competition, looking at user journeys and creating a wireframe. The exact activities we did during the four days are similar to those of any design sprint. As helpful the activities were (and some of them really were), a lot of the growth and development of Stuiz came from conversations with people at the sprint. There was a general air of self-motivated progress which came through in all the conversations, from providing monetisation strategies to criticising the wording of a line in a pitch.
And even ignoring the buffet breakfasts, 3 course dinners and steam room, it was a great experience.
The Pitch
After finishing the design sprint, I went to Malaga for a holiday before the final pitch.
It took place at the Jisc Office in London, right on the Thames. I watched a few of my friends pitch to the panel of four Jisc reps. I'm normally not too bad at public speaking but as always, the butterflies made an appearance. When it got to my pitch, I was pretty confident (despite messing up the wording once or twice). After the 5 minute pitch, I was questioned for 15 minutes about Stuiz. As the pitch is capped as 5 minutes, I chose to only mention certain aspects in the pitch so to incite the asking of questions that I had solid answers (and slides) for. Apart from these, there were a few questions I hadn't predicted but I answered them well. If you know your idea inside and out, this bit's easy.
The Result
Jisc chose to take Stuiz forward and make it into a product. I'll see you on it soon.
If you're a student who's thinking about doing it, do it - you've got nothing to lose and so much to gain.
Special thanks to; Keith Brown, Will Van Der Weyden, Laurence Cartwright, Olivia Jones, Connie Hogg, Georgia Keats and Jisc.