Following an invitation from Dr Steve Cazyer, Director of Studies, I was involved with a session for the MSc Innovation and Technology Management. This involved some 30 international students studying the programme unit 'Managing Product Development'.
For me, it was an opportunity to find out the features that I should incorporate into the next version of Study-Space which is an enterprise app that is currently being developed and trialed at the university (including Steve's unit) and which shows some promise as a collaborative learning environment or Social Learning Network (SLN). For the students, it was an opportunity to engage and learn about Agile Software development using an authentic real-world example.
Part of the session involved an activity where the students as 'clients' were required to produce a list of enhancements for the app, which they prioritise and pass to the developer (that's me).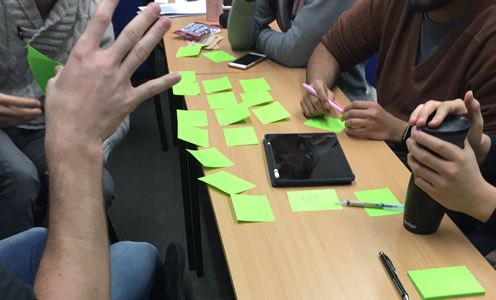 The results for each group reveal some really interesting ideas, such as the facility to upload study material to the app, and discussion boards. I never really expected these! Anyway, pulling these ideas together, Steve facilitated a vote for the top priorities from the entire group, which indicates that the facility to add pictures is the most requested enhancement: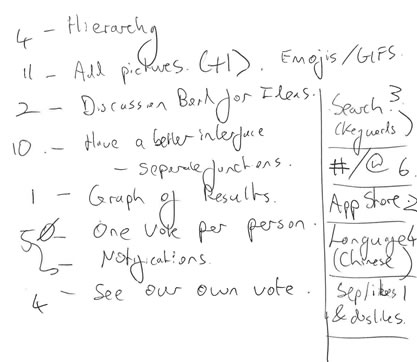 I will be taking these ideas forward with the Study-Space development team which comprises of a small group of students that are currently developing the specification and coding the next version. So far,  the 'ground-up' approach seems to be working exceptionally well. The ethos is very much around the idea of 'An App developed by Students for Students'.
Many thanks to Steve Cayzer and the vibrant bunch of students enrolled on ME50236 who were full of creative energy and a joy to work with!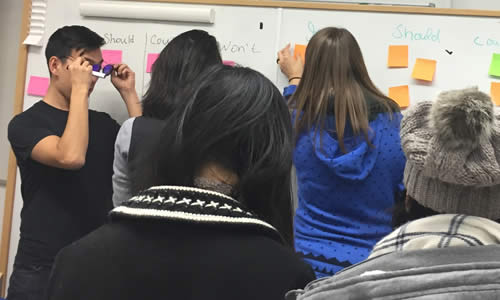 Save