Introduction
Study-Space is a Social Media/eFeedback type of app that I built which has been designed and coded in collaboration with students.  The idea was conceived about 18 months ago as a way to overcome some of the issues encountered with mainstream Social Media.
This blog represents the one year milestone since the app was first piloted, and is an opportunity for me to pause to review the impact and collate some of the comments from students and academics.  A total of some 600 undergraduates across the university have used the app, with some excellent feedback and evaluation results from students.
There has been significant interest both internally and externally. As a result, we are currently looking at extending the app for use by researchers, and for use at other institutions.
The first pilot commenced in March 2016 in the department of Pharmacy and Pharmacology. Since that time it has been used on a number of programme units across the university. Evaluation data is very positive, and there is strong agreement from students that the app serves as a complement to the materials on Moodle. Recently, the app has been used with Staff-Student Liaison committees, and we have just commenced trials with virtual spaces for groups of Postgraduate Research students. It is also being considered for use on high-profile courses such as the Executive MBA in the School of Management.
The app provides for virtual, semi-formal spaces where students and teaching staff can interact inside and outside the classroom. Available for iOS/Android/Web it is only available from the in-house app store (you won't find it on the global app-stores), and is an app that offers a safe space that provides two layers of protection for students:
Privacy - data is internal to the university. This is crucial for students because it does not impact on their mainstream digital identity
Anonymity - students are able to post questions without judgement by their peers.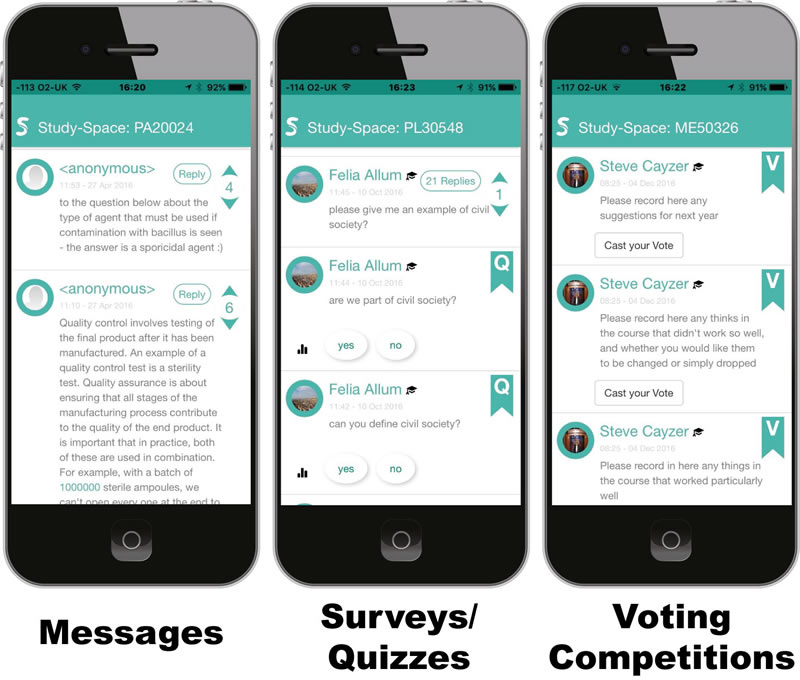 A Student Viewpoint
Toby Barrat is a final year undergraduate who has coded parts of the app, and also used the app for study on a programme unit:
Developing Study-Space has really helped to open my eyes to the potential that lies in the app, and the wider benefits of improving student engagement in higher education. Study-Space acts as a semi-formal conversation facilitator between students and academics which can help make the learning process more efficient for all involved.

From a student perspective, the forums developing on the app reflect opportunities to gain answers to the questions you have, but also to the questions you wish you had. The anonymity removes the fear of asking questions which could be perceived as being simple, but also gives the chance to give honest feedback about your level of understanding.

On the academic side, conversations on the app can be used to tailor revision and problem sessions in the areas that are needed. In my opinion, the most exciting element of Study-Space is its ability to engage students in peer to peer learning, and I personally have benefited from a question asked and answered exclusively by students in the app; the exchange reminded me of something which ended up being in the exam, and I no doubt gained marks because of it. Study-Space acts as an extra tool to be used alongside the systems we have in place at the University, such as Moodle and Samis, and adds functionality in areas which are lacking in the current arrangement. It would have been great if I had had the opportunity to use Study-Space during my 5 years at the University.
Academics' Viewpoint
John Chew, Department of Chemical Engineering:
I have always been a firm believer of active learning and teaching. I started using the Study-Space App in two of the units that I teach this Semester. The students and I feel that the App allowed and encouraged staff-student and student-student interactions inside and outside of lectures in a simple but effective way. I have now decided to use it in all the units that I teach.
Dr Steve Cayzer, Department of Mechanical Engineering
I used Study-Space to promote student engagement on my MSc programme. I was impressed by how easy it was to post up questions and polls, gathering quick and anonymous feedback. I designed an agile workshop around the app, challenging students to discuss and propose high value change requests. I invited Keith to discuss the results with the students; the result was a highly interactive, deeply immersive learning experience for the students, also yielding valuable insights for Study-Space development.
Dr Mirella Di Lorenzo, Department of Chemical Engineering:
I believe that Study-Space is a brilliant platform to engage with  students and to allow them to interact to each others. I use it to ask them for feedback , to test their knowledge with a quiz, to clarify some aspects of my lectures, to post useful links and references or simply as a question/answers tool. I can see that the students like Study-Space by their level of engagement with it and by their positive comments during informal chats. By using Study-Space I do not need any longer to reply to lots of individual emails. Often students have the same kind of questions, which on Study-Space can be replied once and in such a way that everyone can read it! The app is of clear benefit to the students during both teaching time and revision.

I am currently using this app for three modules during the current academic year and I believe I'll keep using it in the next academic year.
Dr Felia Allum, Department of Politics, Languages and International Studies:
Study Space has added a new, extra and exciting dimension to my teaching as I seek to make my teaching more interactive, but in reality it has complimented it perfectly. It has given students and lecturers alike, a new and virtual way of engaging among peers and teaching; a constant, interactive and engaging form of communication in class but also during the week in preparation before class.

Recently, I have developed active learning in one of my 4th yr units. The whole unit is dedicated to students studying Italian mafias and designing their own student led role-play. This experimental teaching and learning approach moves away from traditional forms of teaching to enabling students to engage and learn in different, more stimulating ways. It was unclear to me how technology could help me in this. However, Study-Space has been the most appropriate app that has accompanied me in the development of this new way/format of teaching. Study-Space has been the perfect forum for this process, inside and outside of the class-room.
Dr Albert Bolhuis, Department of Pharmacy and Pharmacology
As convenor for PA20024, the Study-Space app has provided a convenient way to engage with students outside of lectures, and enables staff to monitor how well students have understood the material that was taught. The app is easy to use and the workload is minimal. Importantly, students are not only asking, but also answering questions that have been posted, and the app thus facilitates a lively peer support community for the unit.
Dr Julie Letchford, Department of Pharmacy and Pharmacology
As an academic delivering lectures, practicals and workshops on this unit, I'm always keen to obtain student feedback. The voting element built into this App provides a really useful way of easily achieving this immediately after the session.
Summary
The app started as an experiment based on previous attempts using main-stream Social Media for teaching and learning. By providing two layers of privacy for users, the app that we built seems to have overcome the barriers, and has struck a chord with both students and academics. It represents a platform that augments and complements our VLE by providing safe and secure social channels to enable peer learning both inside and outside the classroom.
Save