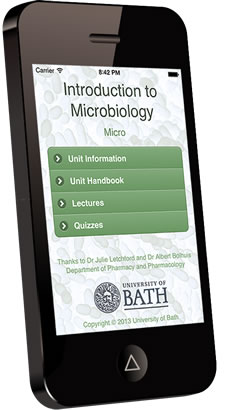 I've just heard that we will be updating the educational content of the app 'Introduction to Microbiology'. Although released as an Android app last year, we encountered some difficulties distributing to students.  However, in November 2013 we did manage to trial with a small selection of first-year students (n~15). The evaluation results indicate:
93% find the app useful
93% find the app easy-to-use
100% would use the app for private study
The main news today is that I now have an official method to distribute apps to staff and students within the university. It can best be described as a private App Store. This is all thanks to the Digital Team who provided invaluable assistance in my quest to exploit BYOD for teaching and learning. Basically, the upshot is that I can now easily distribute both Android and iOS apps.
So, in October, we will be releasing the second version of the Microbiology app to the entire first-year cohort of pharmacy students, and it will be really interesting to see how it is received.
Many thanks to Julie Letchford and Albert Bolhuis, who have provided the academic content for this undergraduate unit.