Professor Sir Charles William Oatley OBE, FRS (1904-1996)
On February 14th 2014 Professor Sue Wonnacott attended the unveiling of a plaque to Sir Charles Oatley, located above the baker's shop where he was born in Frome in 1904.
Charles Oatley is remembered as one of the two great pioneers of scanning electron microscopy, together with Manfred Von Ardenne.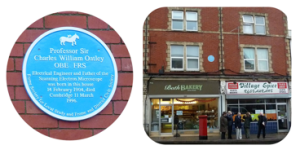 After spending his early years in Frome, Charles Oatley studied physics at St John's College Cambridge, and went to join the team that developed radar during World War II. After the war, he returned to Cambridge where he developed the scanning electron microscope. Charles Oatley was appointed Professor of Electrical Engineering at Cambridge in 1960, was elected fellow of the Royal Society in 1969, and was knighted in 1974. He was also awarded an honorary DSc by the University of Bath in 1977.