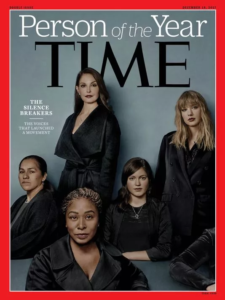 "2016 was the year your favourite celebrities died; 2017 was the year they were outed as sexual predators."
TIME's Person of the Year 2017 was in fact a whole collective: dubbed 'The Silence Breakers', these are the faces behind the #MeToo campaign which has swept across social media this year. In light of sexual violence allegations towards notable Hollywood names such as Harvey Weinstein, Alyssa Milano tweeted using this phrase, which consequentially gained traction online as a means to express solidarity, raise awareness and, at the most basic level, prove that sexual violence does happen. Too often those who come forward are dismissed as "money-hungry", "attention-seeking", "lying" or, primarily in the case of women, "crazy". The reality is that almost every woman and gender or sexual minority I know has experienced sexual assault/harassment: my Facebook, Twitter and Instagram feeds were flooded with their stories, and their friends' stories, and their idols' stories.
#MeToo was a way of saying: Look at us. We are here. We are your friends, colleagues, movie stars, children. This is an epidemic decades in the making.
Founded in 2006 by Tarana Burke, a black woman who aimed to engage with girls of colour regarding sexual violence, #MeToo is about creating a community of support, healing and activism to end the epidemic. At the core of it are the voices of survivors. The TIME cover features 5 women who have come forth with their experiences of sexual violence, but this is just a fraction of the campaign's impact. As of October 2017, there were 1.7 million tweets about #MeToo across 85 countries according to CBS News; and these are just from the people comfortable enough to come forward. For every person who says, "This happened to me", there are several more who can't. This illustrates so clearly that sexual violence is too common to overlook, dismiss or ignore.
Yet while recognising sexual violence as a major issue, not just in Hollywood but in our everyday social lives, is an important and necessary step towards prevention, it is not going to end sexual violence. In the words of Tarana herself to Business Insider:
"[...]I was like, god there's millions of women disclosing their experience, or people disclosing their experience with sexual violence, and there's no container to process this. There's nobody here to help them, to walk through what disclosure feels like. What do you do after you put #MeToo?"
In the United States, Donald Trump sits as both a president and a man with several allegations of sexual violence against him. In the UK, an investigation by The Guardian showed up to 10,000 sexual violence services have been forced to close their doors due to a lack of government funding, and The Victims' Fund, an amount of money available to the victims of crimes, was decentralised with no allocation set aside for domestic or sexual violence survivors. Perhaps now, with the salience of sexual violence in the media, is when survivors need resources and support more than ever.
So what does happen after you say #MeToo if there aren't resources there? What can you do?
Now is the time to be vocal and to organise in support of survivors: be an active bystander and stop your friend from assaulting someone, make yourself aware of the support services available (particularly at university or online), and to do so especially if you are an ally, for those around you who may be survivors. In the UK, Rape Crisis centres received 4,000 calls a week, and on campus, 1 in 3 women become victims of sexual violence. If your flat has 6 people in it, it is likely at least 1 or 2 have experienced sexual violence in some form. On campus, we want to break the silence, too - not just through survivors speaking out, but from their friends, witnesses, lecturers and others committing to making their lives safer and easier.
To say sexual violence #NeverOK is to make sure they can heal in an environment where they are safe and supported. To say sexual violence is #NeverOK is to be a part of a wider cultural change. To say sexual violence is #NeverOK is to break the silence.
---
If you have been affected by sexual harassment or violence, you can contact Student Services via email or by calling 01225 383838, or come to the drop-in sessions in 4 West.
Alternatively, you can go to the SU Advice Centre in the Student Centre. You can also email them, call them on 01225 386906 or use the 'report an issue' button.
You will be believed. You will be taken seriously. You won't be pressured to make a formal report. When you talk to us, it is in confidence.
If you are a staff member supporting a student, you can call 4321 for advice and support.
Outside of the University, you can contact The Bridge, the Medical Centre, or the police directly.