University of Bath alumna, Jeevanthie Senanayake, is a civil servant in Sri Lanka. She completed her MSc International Public Policy Analysis (MIPPA) in 2012, and has since gone on to be the first female Sri Lankan civilian officer to earn the military qualification Passed Staff College (PSC).
Countries including the UK and Sri Lanka have joint staff colleges to train their military and civil servants. Jeevanthie's college provided her with essential military training, a theoretical basis for war fighting, an exposure to the policy of war, all of which which helped her to attain this qualification.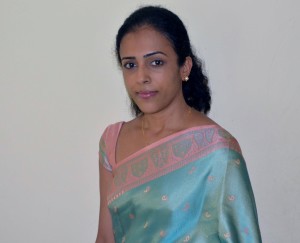 Jeevanthie said of her achievement: "I feel proud of myself. It is not easy for even a military officer to obtain this qualification. It involves a lot of hard work.
"To be the first female civilian to have earned this qualification is something to be proud of. I also won the prestigious 'Golden Pen' award for the best research at the Defence Services Command and Staff College last year. That was the first time a civilian officer had won that award.
"Before I started my masters I was an officer of the Sri Lanka Administrative Service, which is equivalent to the civil service in many other countries. I was attached to the Ministry of Defence in Sri Lanka before I studied for MIPPA, and my duties involved working with the Department of Police. After MIPPA I went back to the Ministry of Defence and was posted in the Development Division. Whilst there I worked with the military educational institutions including the Defence Services Command and Staff College and the Sir John Kotelawala Defence University.
"MIPPA gave me a very good overall understanding of policies in different countries and regions of the world. In addition, it gave me the basic understanding of different approaches to policy analysis as well as the importance of evidence based policies. All of this has helped me to shape up my thinking process."
Jeevanthie hopes to be part of the defence set up and policy community of Sri Lanka to assist in defence of the country from future threats.
Congratulations to Jeevanthie on this great achievement from all of us at the University of Bath.