On Monday, Emma and I went to a reception in Canada House, London, organised by the One Young World team. I was excited to meet the massive variety of delegates coming to Ottawa at this event, and it certainly didn't disappoint!
The first thing to note as I emerged from Charing Cross station is that Canada House, the High Commission of Canada in the UK, is in an awesome location, overlooking Trafalgar Square. Despite the fact that the building is almost draped in Canada flags, I never knew the nature of the building having seen it so many times before.
Interestingly, our opportunity to meet awesome people started before we actually entered the building. Waiting in the queue outside to enter, we met and had a chat with PJ Mandewa Cole, a returning One Young World Ambassador who spoke last year as a delegate about his work with his organisation Lifeline, which provides support to former child soldiers. Just chatting to PJ, seeing the visible excitement in him to go to Ottawa, and learning about the massive impact his work has had, was a great experience that reminded me of the rewards of saying hi to new people- even if it's just in a queue!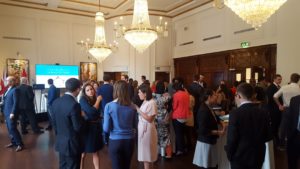 Canada House was as you'd perhaps expect- as grand and majestic inside as it is from the outside. We entered a large hall where there around 60 delegates from the UK had gathered. It was a great experience to meet and hear the backgrounds of others who were in the same first-time OYW position as us, as well as those who had attended previously and had a little more experience. I got the opportunity to speak to people working for organisations as varied as the Civil Service, BP, and a range of social enterprise organisations. There was also some very tasty finger food on offer!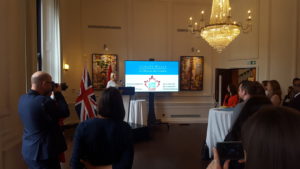 We heard from Kate Robertson, co-founder of One Young World, as well as the newly-appointed Canadian High Commissioner to the UK, Janice Charette. Something emphasised in these talks was that this summit really is a high level, influential event. "OYW is not a youth summit." stated Kate, in a rather firm manner. "It's about leadership.".
This reception lasted only 2 hours, but leaving the doors of Canada House, I felt like I'd benefited from a whole day of meeting new people, learning and being inspired. What really hit home with me, however, was the following line from Kate:
"Of those to whom much is given, much is expected of you."
OYW Ottawa is just a week away, and I'm excited to make the most of this incredible opportunity I've been given.