It's the Opening Ceremony for Glasgow 2014 tonight at the start of 11 days of competition for athletes from all around the Commonwealth.
But for host nation Scotland these Games could have an important role to play outside of the sporting arena in the run up to September's much-anticipated independence referendum.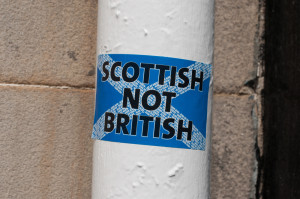 I spoke to Dr Michael Silk, who heads up our Physical and Cultural Studies Group here at Bath and whose research has looked at the impact of major sporting events on national identity and on politics, to ask him about how important these Commonwealth Games might be for the 'Yes' campaign.
"Any major event puts forward a particular version of national identity, often mythical and inclusive, and it is something that has political capital. In an effort to attract tourists, boost the economy, the push towards a national 'feel good factor' is undoubtedly something we'll see from the organisers of Glasgow 2014", he explained.
For Mike, the important factor for these Games might be the performance of Team Scotland. Unlike in the Olympics where Team GB competes as one, each nation (England, Scotland, Wales and Northern Ireland)  field teams for the Commonwealth Games.
"In many respects it will be the performance of Team Scotland that really matters in the referendum debate. And this could work both ways: if Team Scotland do well we will see a surge in patriotism and a boost to the Yes campaign; but if, like in the recent World Cup, we see the host nation fall short, this could have a strong detrimental effect instead.
"However, the political capital gained from the Commonwealth Games is likely to be only short-lived if the experience of the Olympics in London 2012 is anything to go by. The chances of Scottish pride from Glasgow 2014 feeding through to September's referendum vote seems unlikely."
And for politicians hoping to capitalise on events, Mike offers a word of warning: "Politicians on both sides of the argument should be wary of 'political ambush marketing' in their efforts to capitalise on success and the national mood, as we saw with Alex Salmond's unfurling of the Scottish flag after Andy Murray's Wimbledon win in 2013."
Mike was recently interviewed for The Independent on this topic. To read the whole article see 'Scottish independence: How the Commonwealth Games could swing the vote'.