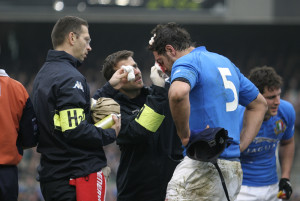 English rugby this week announced a significant change in the way concussion is managed in the professional game in order to reduce injury risks for players.
A joint venture between the RFU, Premiership Rugby and Rugby Players' Association (RPA) will focus on concussion awareness and management in games, plus a new 'return to play' protocol. As part of plans announced, players, coaches and officials will also be required to pass an online module in concussion management, or risk a fine or even suspension.
At the same time, a new project from researchers at the University of Bath to monitor players returning to play after a concussion has also been unveiled.
Researchers from the University's Department for Health, part of the Rugby Science at Bath team, have been carefully analysing the nature of concussion injuries, as part of the research with the England Professional Rugby Injury Surveillance Project since 2011.
Commenting on today's announcement and upcoming research at Bath, Dr Keith Stokes said: "Our role in the area of concussion management will be to evaluate new return to play pathways for players who have been concussed, in terms of building up a typical picture of how a player returns to participation. As part of this we will also look at the influence of concussion injuries on broader injury risk.
"We hope that this research will contribute to an improved understanding of player management following a concussion injury and help shape the development of return-to-play guidelines."
Chief Medical Officer at the RFU, Dr Simon Kemp, added: "English professional rugby welcomes the opportunity to continue collaboration with the University of Bath on this important player welfare initiative.
"The independent quality assurance that our partnership with the University provides is an important element of our risk management strategy."
Previous research at the University, funded by the IRB, led to a major change to the game in 2013 with a new scrum engagement process 'crouch, bind, set' being rolled out internationally. For more on research into safer rugby scrums see http://www.bath.ac.uk/research/case-studies/safer-rugby-scrums.
For further information on injury prevention in rugby, as featured in the British Association of Sport & Exercise Medicine (BASEM) from earlier in 2014 see http://www.bath.ac.uk/health/documents/basem/injury-prevention-in-rugby.pdf.