Autumn is upon us and like everyone else, the Public Engagement Unit have been gearing up for the academic year ahead. Over the summer we have been redeveloping many of our offerings to the research community, as well taking some well-earned annual leave.
Joanna has been reshaping our seed funding to enable us to give out more small awards and some larger more strategic grants, and agreeing partnerships for these with the Widening Participation Office and Edge Arts. So, you can now apply for small projects or pilot projects requesting up to £500, or if you have more public engagement experience and are looking to extend your practice, we have an expression of interest open to attend a sandpit where we will co-develop projects with you bringing in some external experts. These will be larger projects up to £5000 in value and we hope to help you to create some ambitious engagement relating to your current research through these projects. If you want to apply, see our further information and application forms.
Ed has been planning for our 2016/17 programme of Public Engagement Conversations, with the first of these being organised for the 26th October. We are working with our Impact colleagues in RIS for this first conversation as it will consider the role of public engagement in REF impact case studies, drawing on some epic work undertaken by the National Coordinating Centre for Public Engagement, alongside experience from researchers here at Bath. If you'd like to come along, register here.
Helen and Ed have been looking at our training and development work for the coming year. Ed has devised three new courses - engaging with the voluntary and community sector; effective collaborative behaviours; and facilitation skills for community groups. These will all be available via the PG Skills programme this year and are open to any researcher at the University.
Ed has been working with Bath Royal Literary & Scientific Institution (BRLSI) to reflect on the Young Researchers' Programme from last year and plan for the next year ahead. This culminated at the end of year conference in BRLSI on 1st October. It was really great to hear from all of the young people who took part in 2015/16 and from our PhD students who supervised them. The young researchers' sense of achievement and pride in their projects was amazing, and the depth of learning for our PhD supervisors was fantastic. A new batch of PhD supervisors has already been recruited for the 2016/17 programme.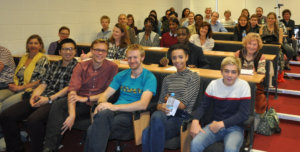 The Mayor (Councillor Paul Crossley) said:
Thank you so much for inviting us to the presentation of work at the University of the young scientists. It was an inspirational afternoon and is a project that BRLSI and the University should be very proud of.
Helen and Joanna have been looking at the 2016/17 plans of our work, and associated budgets, and thinking about the future! More of this to come another time……. We have also both been busy working with national organisations as peer reviewers and by inputting to their engagement programmes and future thinking, including the Royal Academy of Engineering, The Wellcome Trust and NERC.
Helen took a trip over to Swansea in early September to see what was happening at the British Science Festival. We are working with others here at Bath thinking about science festivals and how and if we should grow from Bath Taps into a city-wide festival. Seeing what was happening in Swansea was a great way to reflect upon what we could do here in Bath and to inform our options!
Joanna spent her first week back from leave pulling together information for the University's RCUK Assurance report, which includes reporting on public engagement with research at an institutional level for the first time. It was quite a mammoth task, but, if I'm honest, it was satisfying to have so much to say and so much work to draw upon to show RCUK how well placed we are in supporting public engagement with research here at Bath, and that the Catalyst funding that we had from RCUK in 2012-2015 has been built upon further.