Do you have a great idea for training for public engagement? If so, read on!
As you may know, the Public Engagement Unit secured funding from RCUK last year to examine professional development and training to support public engagement with research. You can read more about the project in previous blog posts. As a result of this project we would like to pilot some new (to us) professional development tools and activities. We are inviting researchers at any stage in their career to work with us to develop and test them so that these activities are relevant and meaningful.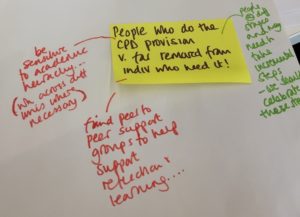 We have identified three possible areas that we would like to explore (but we are also open to suggestions):
Self-assessment of existing skills / competencies - just because you've not done public engagement with research before, it doesn't mean you don't have the skills already.
How do we surface skills from all areas of our lives to feel prepared for doing public engagement?
Mentoring / buddy system – It can be useful to share your experiences of public engagement with someone else. You might just want to talk about what you did, or perhaps you want to talk with someone else who's already done it from your department or faculty or beyond.
How can we set up and run a mentor or buddy system to support learning and confidence in public engagement?
Job swaps / placements – stepping into the shoes of people you want to work with can be really beneficial. Media Fellowships are commonplace and the University runs a Policy Fellowship scheme.
What can we do to enable learning between community partners and researchers by spending time with a partner organisation?
Something else entirely different – tell us what you'd like to try and why it's needed.
We have a small budgetof £5000 to help with the development and delivery of materials or to cover other expenses (e.g. travel and subsistence) but this will not cover staff time.
Process
If you would like to work with us, please send an email to public-engagement@bath.ac.uk outlining:
Which of the areas you would like to work on and why
What you will do, including a timeline
How you would like to work with the PEU, including outlining what you need from us (we are flexible about when this works takes place)
How you will assess success
How the work could be sustained after the funding period (assuming it is successful in this pilot phase)
Budget (with justifications)
We are looking for proposals with no greater value than ~£1500.  If proposals of a smaller scale are submitted we will be able to fund more of them.
Please send your proposal to public-engagement@bath.ac.uk no later than 5pm on Monday 28 May. We will let you know if you have been successful on 4 June.
Assessment
We are looking for:
Ideas that are new to us (but can be tried and tested in another setting)
Tools and activities that can be scaled up, rolled out across departments or faculties, or used again in some way
Feasibility
Willingness to collaborate with the Public Engagement Unit – for example by getting in touch to discuss your idea before the deadline