I'm currently at ECSITE 2018 to share and discuss our ChallengeCPD work. Alongside Justin Dillon (University of Exeter), Margaret Glass (ASTC) and Andy Lloyd (Centre for Life) we each shared an aspect of "professionalisation"**.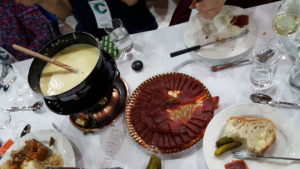 Justin shared some of the findings from the ScoPPES project we did together last year. I shared some of our understandings of the culture of training and professional development from ChallengCPD, Margaret shared the Informal Science Learning framework and Andy talked about the role that professionalisation can play in recruitment. Professionalisation is an emerging area and certainly not accepted within the sector, so there are lots of really interesting questions to discuss. We asked:
Justin: What can we do to stop repeating mistakes, and reinventing the wheel?
Helen: Can we expect scientists who are communicating to have the same quality standards as science communicators?
Margaret: How are we thinking about our own professional development?
Andy: How do formalise our current 'bardic' nature of passing on skills and knowledge to next generations?
I was delighted that we had about 90 people in the room (perhaps it's not quite such a loaded term after all?) and the group split fairly evenly across the four questions. My group had a really interesting discussion which ranged all over the place. Some thoughts from it:
While we'd like to hold everyone to the same quality standards, that's simply not realistic. Visitors place different value on the experiences from science communicators and scientists. Scientists bring authenticity and passion; science communicators bring a broad range of communication skills which facilitate reliable, valuable and tailored visitor experiences.  There is value in recognising these differences to encourage partnership working and for letting visitors know what to expect. We even heard cautionary tales of scientists with excellent communication skills not being perceived as a 'real' scientist. A useful flip question: do we expect science communicators to be highly skilled in science? Probably not.
When we talked about training for science communication at PhD level we heard there is a range of provision from zero to compulsory. This also linked to formal recognition (or lack of) for science communication and public engagement activities.
Finally, there was a useful reminder that it's not just about science communicators and scientists who engage, there is a third group in the mix: the facilitators who bring these two groups together and who develop and deliver training. This group are pretty much overlooked, and there was a call for "supporting the supporters". As someone who sits in the area, I was pleased that it wasn't me that raised this issue!
What do you think?
** Side note: this is a problematic term [read: some people REALLY hate it] so let's just say it's a shorthand for how we make our work as good as it can be.