Living in halls has to be one of the most talked about subjects when it comes to university and that's because everyone's experience will be different. Not only from university to university but also differences between the different halls available. At Bath that means you could be in a number of different blocks, on or off campus - all have their benefits and disadvantages.
I'm in the perhaps unusual situation of sharing a flat with only two others in a small house of only 36 students (Osborne House in case you want to search it up on the uni's accommodation site). Some of my friends are sharing flats with 20 people with hundreds of students in the same building (Quads) Where you will stay will come down to 2 things: where you would like to stay / what preferences you have and also how early you apply! It's first come first serve so make sure to get your application in very early to ensure you get your first choice accommodation.
The fun bit:
So what's it's actually like to live in halls you ask? Totally awesome I say... If this is your first time living away from home, or even if it's not, then you're going to love it. It's a lot of fun to be living with friends and always having some around to do anything from just having a cuppa and a chat with to going on nights out with. You'll find someone who shares your interests - no matter how obscure. So, just to give you a snapshot I'll highlight two things me and my flatmates have been up to this week!
1. The Walking Dead... For those of you not familiar with this relaxing TV show, it's a dramatic horror series set in a post apocalyptic world where the dead have come back to life leaving a few pathetic humans to wonder round trying not to get eaten. So this week we've been watching an episode every day (we're not addicted, honest) but with one small twist... We've all assigned each other a minor character (you'll soon understand why a major character would be cheating) based on our personalities in real life. The aim of course, to see who can survive through the series the longest! I'm pleased to report (at time of writing) as of episode 5; series 1 I am still going strong, unfortunately so are the others but I will report any updates in future blog posts!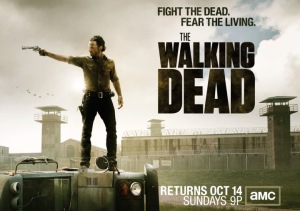 2. Pancakessss. Who doesn't love pancakes right? Everyone loves pancakes so we've made it a flat tradition (of which you will make many- both wonderful and bizarre!) to make pancakes every weekend when we're all in the flat. This is a great way to get everyone together and to chill out at the weekend so make sure to brush up your culinary skills before you come (I hear cake goes down equally well!) So yes, as you can see from the image we were very proud of our efforts.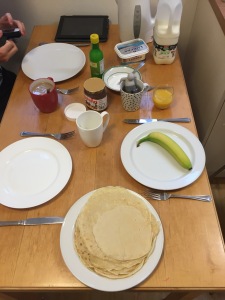 So these are just a few of the many things you can get up to in halls... I hope to be sharing some more halls activities amongst many other university related things very soon!
Until then!
Harry.